Let The Stars Be Your Guide For A Floral Birthday Gift
Everyone has been here: wondering what to get a woman for her birthday gift and having no idea. Everything seems so cliché. You don't know what size to buy, where to shop, or even what she really wants. Gift certificates, candles, and most everything else seem impersonal, and you want it to be special. Then it hits you. Send flowers! Perfect! You can make it more unique by matching the flowers to her astrological sign.
Flowers mean a woman is extraordinary. They are not practical, nor are they functional. However, that's the charm. They serve one purpose: to tell a woman she is important to you. They are gorgeous, smell amazing, and are sure to make her smile. Isn't that the entire idea?
To take the gesture of sending flowers and really make it exceptional, match the flowers to her zodiac sign. Imagine her face when she learns the birthday flowers you sent were designed specially for her. Grandmother, mother, girlfriend, or whomever she may be, when her birthday rolls around, it's time to invest in something that will express how much she means to you. By matching the flowers to her sign, you can turn this one-size-fits-all gift into something spectacular! So, what's her sign?
Aries Zodiac Flowers (March 21 – April 19)
Aries are passionate ladies born between March 21 and April 19. They are traditionally adventurous, confident, and enthusiastic. Red roses are the perfect flower for an Aries, as are tulips. These vibrant flowers are sure to please such a vivacious woman! Send a classic arrangement of only red roses or mix it up by adding white tulips for a more romantic gesture. You can also match tulips to an endless list of other flowers, such as Stargazer lilies, for a cheerful, friendly display on her birthday.
Taurus Zodiac Flowers (April 20 – May 20)
If your birthday girl was born between April 20 and May 20, she's a Taurus who are typically patient, conventional, and warmhearted. To really impress her, give her a bouquet including lilac, sweet pea, or Lily of the Valley.
Delicate, sweet-smelling flowers like these will tell this home-lover you truly understand and treasure her. Fragrant lily of the valley would go well with gently hued blooms that don't overpower it and creating a visually appealing and fragrant bouquet. It has a small, light bloom, much like sweat pea and lilac. Combining it with more considerable blooms, like roses or calla lilies, allow them to be noticed while creating a bouquet worthy of this loving lady.
Gemini Zodiac Flowers (May 21 – June 21)
Gemini's were born between May 21 and June 21. They are talkative, intellectual, and eloquent. Goldenrod is ideal for this witty woman! Goldenrod is a versatile flower with a deep, saturated yellow orange hue. It can be paired with stargazer lilies for a bright, festive arrangement or with other autumnal colors for a monochromatic look. Either way, the beautiful goldenrod is a welcome addition to a birthday arrangement for a Gemini!
Cancer Zodiac Flowers (June 22 – July 22)
Iris, hydrangea, Queen Anne's lace, or ferns would make a perfect gift for a Cancer, whose birthday falls between June 22 and July 22. Cancers are traditionally loving, imaginative, and intuitive. Ferns are a hardy and practical plant that requires little maintenance and will add flair to any room or office. Queen Anne's lace is a light, feathery flower that is paired beautifully with white roses for an understated, elegant look that will not go unnoticed by a sensitive Cancer.



Leo Zodiac Flowers (July 23 – August 22)
The sign of the Lion, or Leo, are people who are typically extroverted, creative, and generous. Their birthdays are between July 23 and August 22. Great ideas for flowers would be carnations, peonies, or anthuriums. Brightly hued blooms will suit this larger-than-life woman perfectly!
Virgo Zodiac Flowers (August 23 – September 22)
Virgos were born between August 23 and September 22. They tend to be practical, modest, and meticulous. Flowers that compliment a Virgo are St. John's Wart, chrysanthemum, and violet. These subtle blooms will complement the aesthetic of an unfussy Virgo.
Libra Zodiac Flowers (September 23 – October 22)
Libras are romantics whose birthdays lie between September 23 and October 22. They are traditionally social and charming. Orchids, gardenias, and tuberose are just the thing to please an elegant Libra on her birthday. For example, orchids are a stunning stand-alone flower that can be potted and enjoyed for years, or it is easily incorporated into arrangements due to its simple, yet striking bloom. Also, tuberose and gardenias are lovely choices that will speak to the romantic side of a Libra!
Scorpio Zodiac Flowers (October 23 – November 21)
The sign of the Scorpio is classically determined, sensual, and passionate. Their birthdays lie between October 23 and November 21. If your special woman were a Scorpio, a bouquet including hibiscus or peony would surely do the trick! Hibiscus and gerbera daisies have dazzling blooms that ideally reflect the passion of a Scorpio!
Sagittarius Zodiac Flowers (November 22 – December 21)
If her birthday is between November 22 and December 21 she is a Sagittarius. Straightforward and optimistic, she is a playful individual who is also good-humored and honest. Carnations, fox-tail lilies, and blazing stars (liatris) would make an ideal gift! Unique and lively blooms such as these would certainly bring cheer to an already good-natured Sagittarius!
Capricorn Zodiac Flowers (December 22 – January 19)
Capricorns were born between December 22 and January 19. Capricorns are usually traditional, practical, and ambitious. Flowers that match the sign of the goat are jasmine, snowdrop, and African violet. These unexpected flowers will surely surprise her and make her day! However, they are also fairly low-key blooms. It would be a good idea to mix them with more eye-catching flowers to complete the arrangement.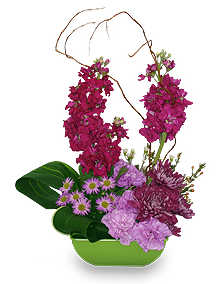 Aquarius Zodiac Flowers (January 20 – February 18)
Independent Aquarius's birthday falls between January 20 and February 18. They are forward-thinkers who are honest, loyal, and unconventional. Flowers such as the stargazer lily or bird of paradise will definitely please this quirky gal! The Stargazer and the Bird of Paradise are both famous for their striking blooms, much like the Aquarius is for her personality!
Pisces Zodiac Flowers (February 19 – March 20)
Pisces are creative, compassionate, and intuitive. Their birthdays are between February 19 and March 20. Jasmine, lilacs, and Madonna lilies are great ideas to include in a birthday bouquet for this unworldly individual. These unpretentious flowers will suit a Piscean who will appreciate them for their subtle splendor.
Whatever her sign, interests, or relation to you, flowers suited to her birth month will tell her she is important to you! It shows you put thought into something oftentimes considered nice but common. Flowers are always a good idea for a birthday, but personalizing them means you admire her that much more! Discuss the use of astrological flowers with your local flower shop this will help the florist to design a bouquet of shear delight for your favorite gal with the very personalized touch.
Contributor: Ashley Slayton
Read these Bloomin' Blog posts related to zodiac and birth month flowers:
Flowers That Represent A Zodiac Sign
The Virtuous Virgo Zodiac Flowers
My August Birth Month Flower–Glad To Have Gladiolus!
All Zodiac Signs Point To Birthday Flowers