November: Be Thankful

November is here already! The month when we take time out of our busy lives to be thankful for the blessings we have. Sure, there is a day specifically devoted to being thankful, (Thanksgiving is November 22!) but why not observe what you are thankful for the entire month of November? No matter where we are in life, there are so many things to be grateful for.
November is also a month of beautiful flowers. A great way to say 'Thanks!' is by sending a beautiful fall arrangement. It doesn't have to be much, but this simple gesture can make someone truly joyful.
Be thankful of the beauty all around us. Bring fall flowers into your home as an easy way to decorate for the remainder of the season. During Thanksgiving, when family is gathering to celebrate the bounty of our lives, why not display the beauty of fall flowers? Your local florist can create a gorgeous cornucopia flower arrangement for your Thanksgiving table centerpiece. The above flower arrangement, Thanksgiving Feast would look perfect setting near the green bean casserole on your buffet table.
Just remember your local florist this November, for all your fall decorating needs.
---
Thanksgiving Flowers – A Style For Everyone
An easy way to take your Thanksgiving decor to the next level is by incorporating harvest-themed flowers. The colors, fragrances, and beauty of flowers can make any buffet table look like it was composed by Ms. Martha Stewart herself. Let's take a look at the different styles available; try to imagine each of these on your holiday table.
See all flower styles available for Thanksgiving

---
Wedding Trends: Cascade Bouquets Make A Comeback

The trends of wedding bouquets change just as often as any other fashion trend. In recent years, the round, hand-tied bouquets are practically all you see… until now.
Cascading bouquets were extremely popular in the 80′s. Thank Princess Diana and her legendary wedding to Prince Charles. It's easy to see why this type of bouquet was chosen for a princess. All of those flowers, the trailing cascade — it's so beautiful.
Click to read what florists have to say about this Cascade Bouquet Comeback

Cascading bouquet pictured by Monday Morning Flowers, Princeton NJ

---
Facebook Friday: August Favorites



We recently started a Friday recap of all the wonderful posts and pictures from active florists on our Facebook Page. It's been so much fun seeing all the completely different designs every day. We hope you enjoy these favorites and continue through to see more from each Friday this month:
| | | |
| --- | --- | --- |
| Alma Blooms, Alma WI | Floral Design, Post Falls, ID | Bev's Floral & Gifts, Parowan UT |
| Treehouse Florist, New Freedom PA | The Flower Shoppe, Alexandria PA | Back to the Fuchsia, Saugatuck MI |
See all Facebook Recap pictures in these posts:
---
Florist Helps Couple Celebrate 65th Anniversary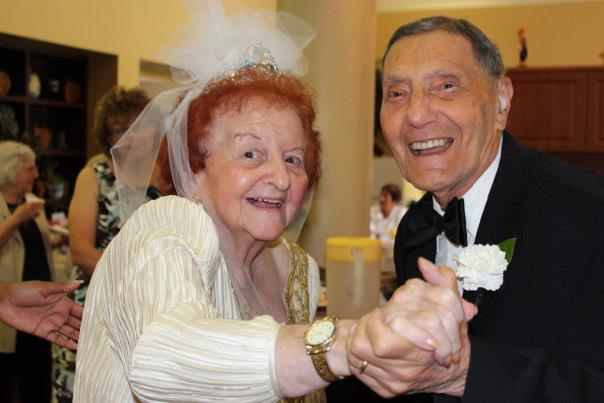 Being a florist is a very fulfilling job because you get to help people celebrate the most important and special occasions in their life. That was just the case for Sandra Hooper of Maryjane's Flowers & Gifts in Berlin NJ. She was asked to help a couple at an assisted living center celebrate their 65th (no, not a typo!) wedding anniversary.
Sandra was given a copy of their wedding portrait and was able to copy the original wedding bouquet almost exactly. What memories that must have stirred up!
---
Reminder: Shop Local This Holiday Season With Help From A Local Florist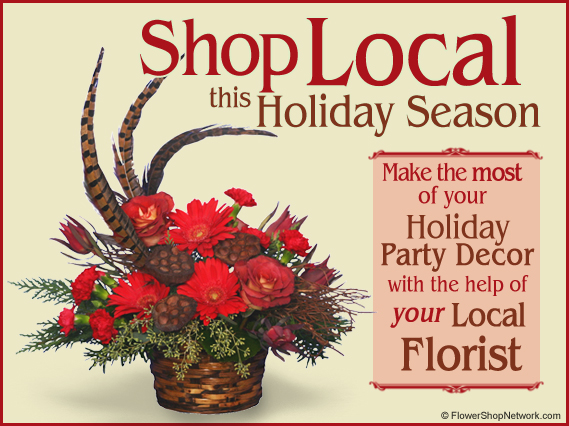 There's been a real buzz this year about shopping LOCAL, and we couldn't be happier! (In case you're new to the blog: Flower Shop Network is a network of ALL local florists.) We just want to remind you of all the wonderful things florists have to offer during the holidays.
Click to see how florists can help YOU during the holidays

---
FLOWER CARE TIP
Do not place your arrangement near
fruit or in the path of cigarette smoke. The
ethylene gas
is detrimental to many flower types.
More Flower Care Tips
WE'RE SOCIAL!








Love flowers? Follow us on the above Social Networks! We are always sharing the latest articles from our Bloomin' Blog, as well as the most fascinating news on the net!
You Might Also Like



Halloween at Flower Shop Network 2012
Halloween is one of our favorite holidays here at FSN… mostly because we love to dress up! This year, as usual, many of us went ALL OUT on our costumes. We had zombies, angels, witches, warriors, musicians, and a whole lot of other costumers you would not expect!
10 Easy Christmas Tree Decorating Tips
Christmas seems to come earlier and earlier ever year. If you haven't already got your tree up, here are a few easy tips to make your Christmas tree look extraordinary.
Send The Beauty of Fall Through Flowers
With our dwindling daylight and cooler overnight temps, you could be just now seeing hints of fall color, or might have already seen the peak of your fall beauty. No matter what the case, you can easily enjoy the beauty of fall.
Feeling Romantic? Send Your Sweetie a Rustic-Rose Fall Arrangement!
Spring isn't the only season for romance. Fall is the perfect time to show your sweetie how much you care. The weather's turning cold — time for cuddling under blankets and sipping hot cocoa. Start the mood off right by bringing home a bunch of rustic roses!
Help make Flower Shop Network's monthly newsletter even better! Got questions? Have an idea for a story? With your help, we can make the FSN newsletter just what you want and need. You can drop us a note in the comment section on the blog or email us at social@flowershopnetwork.com. We can't wait to hear from you!