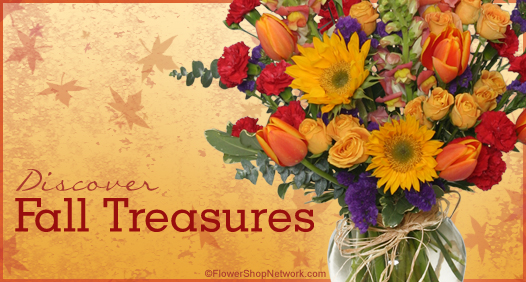 October: Discover Fall Treasures

This year seems to have flown by. Can you believe it will be October in just a couple of days? For October, we've chosen Fall Treasures to be our favorite flower arrangement of the month. It's the perfect arrangement to discover the fantastic flowers of fall. Sunflowers, roses, carnations, and snapdragons – all in the harmonious hues of the season.
Fall Treasures can be sent to yourself or a friend as a little pick-me-up to get a jump-start on the fall season. I know what you're thinking, "I can't send flowers to myself.." Of course you can! Sometimes it pays to treat yourself once in a while, especially before you jump head first into the upcoming holiday season.
Of course, sending flowers to a friend or loved one is almost doubly rewarding. If you know someone who could use a fresh start this fall, why send this arrangement and let them discover Fall Treasures for themselves?
---
Get Your Spook On with Halloween Flowers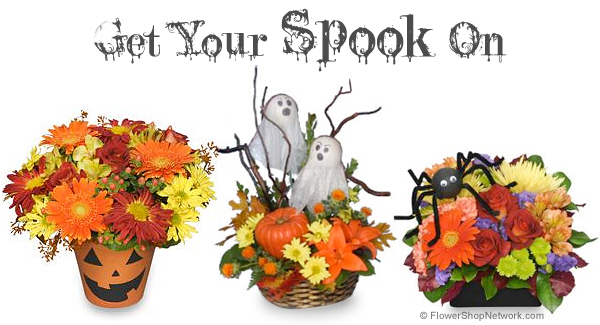 Who doesn't LOVE Halloween. It's become one of our favorite holidays — the costumes, the candy, the fun! Florists are no exception when it comes to Halloween Fun.
The above arrangements are just a few examples of what florists have to offer at Halloween. Maybe you're Halloween party's color scheme is not the usual orange and black — no worries, a florist can create any style to match your Halloween decor! Oh, and if you order early, let them wilt just in time for your festivities to add to the creepiness. You can even cover them in cobwebs! Think outside the pumpkin!
Read more about flowers for Halloween

---
Hey! What's THAT Flower?
We've all gotten flowers before and tried our best to guess what kind of flowers they are. Roses, lilies, carnations… those are the easy ones. What about the more-rare flowers that florists use? Have you ever received an arrangement with a unique flower that made you call your florist just to ask "Hey! What was THAT flower?"
We polled our florists on Facebook and they told us which flowers gets the MOST curious attention from their customers..
Click to read more about the strange flowers florists use…

---
Facebook Friday: August Favorites



We recently started a Friday recap of all the wonderful posts and pictures from active florists on our Facebook Page. It's been so much fun seeing all the completely different designs every day. We hope you enjoy these favorites and continue through to see more from each Friday this month:
| | | |
| --- | --- | --- |
| The Personal Touch Florist, Galax VA | Flowers by Flowers, INC. in Parksville MD | Floral Design in Post Falls ID |
| Bloomin Florist & Gift Shop, Glencoe AL | Flower Patch & More, Bolivar MO | Crossroads Florist, Mahwah NJ |
See all Facebook Recap pictures in these posts:
---

Flower Shop Network On The Road
We had some great conferences to attend in September, here are our pictures and blogs from them:
The Central Allied Florists of Mississippi's Christmas Conference was held in Jackson MI this year. Check out our blog!
The Alabama State Florist Association Convention was in Montgomery, AL. Don't miss our pictures from the show!
We always have a great time when visiting florist shows and conventions. Seeing our florist friends who we rarely see once a year, as well as fresh faces of the industry is always an exciting time. We hope to see you at our next stop!
---
Think Pink This October
October is National Breast Cancer Awareness Month and the time of year the whole world turns PINK! Because breast cancer can almost always be cured with early detection, it's very important to keep up awareness. This is why we THINK PINK in October.
How can you help promote awareness this October? The first step is easy – wear pink for awareness. Until there is a cure, breast cancer awareness and early detection is the key. With early detection, we all win!
Real life heros: If you know someone who has championed their fight with breast cancer, send them Think Pink flowers this October to let them know how happy you are to have them in your life.
Continue reading Think Pink This October

---
FLOWER CARE TIP
Keep your vase filled with water
! All flower and foliage stems should be submerged. Flowers stay fresher, longer when they can get a drink. If your
flowers came in a basket or other container with foam
, add fresh water every day.
More Flower Care Tips
WE'RE SOCIAL!








Love flowers? Follow us on the above Social Networks! We are always sharing the latest articles from our Bloomin' Blog, as well as the most fascinating news on the net!
You Might Also Like



Send A Supervisor Surpriser For Bosses Day
Of all the upcoming holidays, National Bosses Day is one that is sometimes easily over-looked. Not this year! Even bosses need a little encouragement; give Bosses Day gifts that will leave your boss feeling good about themselves for being a great and fair boss.
Your Hometown Florist = Your Lifetime Florist
A family florist, one who knows you, your family, and your style, takes years of working together to establish. Moving away from your hometown doesn't mean you have to get a new florist. 
The Colors of Fall – Trends for 2012
Possibly the most beautiful season of all, the colors of autumn are something we look forward to all year. The rustic reds, dusty oranges, and saffron yellows tantalize our senses like no other hues.
3 Hints from Heloise For Sending Flowers
Recently reading through the always-helpful Hints from Heloise advice column in my local newspaper, I saw where a florist had expressed a few frustrations that can easily be fixed.
The Meaning of Lucky Bamboo Numbers
Lucky bamboo is a favorite houseplant to give to someone to say "good luck!" It could be just before a test, for a grand opening, or just for fun. These little shoots make fantastic companions because they are so tolerant and easy to care for.
Help make Flower Shop Network's monthly newsletter even better! Got questions? Have an idea for a story? With your help, we can make the FSN newsletter just what you want and need. You can drop us a note in the comment section on the blog or email us at social@flowershopnetwork.com. We can't wait to hear from you!