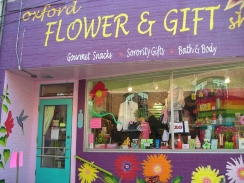 With school back in session and college football season just beginning, its no wonder students are full of school spirit! One local Oxford OH flower shop couldn't be happier! Oxford Flower & Sorority Gifts has done an excellent job of blending their shop with the crave of all-things sorority from their collegiate community.
Being located so close to campus, Oxford Flower shows it's school spirit by offering a large variety of Greek gear. It's easy to see why they have become the hub for sorority girls! With everything from Greek-lettered apparel to sorority gift packages — boyfriends, family or sorority sisters can easily find oh-so-perfect gifts for sorority girls
Let the floral designers at Oxford Flower & Sorority Gifts create an outstanding flower arrangement inside a sorority themed container (coffee cup, travel mug, etc.). Even the flowers and ribbon they choose will match your sorority colors. What a perfect gift for any sorority gal!?
MOMS! Don't let your sorority girl waste away through college without the taste of home-style cooking! Oxford Flower offers a large variety of baked good just waiting to be delivered to your favorite college student. With their home-baked  brownies, deliciously flavored cookies, and the most popular at study hall — the "Most Favorite" iced brownie cake — Oxford Flowers is a collegiate winner!
It's easy to see why Oxford Flowers & Sorority Gifts is a favorite among college students and parents alike! What better way for long distance family to say "We are proud of you" than sending sorority-themed flowers, gifts and sweets all in one?!
This post was brought to you by local Oxford OH florists.
Not in Oxford OH? Don't worry, Flower Shop Network has you covered with their directory of real local florists!