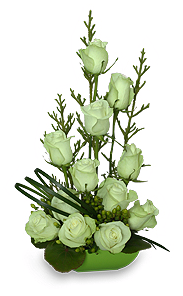 St. Patrick's Day heralds in our favorite season — springtime! Spring is the time of year where the birds are singing, the flowers are blooming and love is in the air! It's time to catch spring fever and send flowers to your hunny. St. Patrick's Day is a great excuse to send some love with lucky GREEN flowers!
Most local florists have their own, unique St. Patrick's Day flower arrangement special. What better way to show your Lady Luck you love her than sending flowers just because? This is a great way to avoid getting in a PINCH this St. Patrick's Day!
So, just how did the pinching start anyway?
It started as an American Tradition in the 1700's. Irish settler's tales said, Leprechauns and other fairy creatures would pinch people they could see. Wearing green made you invisible to these creatures, preventing you from their sneaky pinches.
Hopefully sending flowers will keep you from being in a PINCH!
You might also like:
Green With Envy: Inspirations for St. Paddy's Day
'Going Green' for St. Patty's Day Has Never Been Easier!
St. Paddy's Day Flowers Don't Have To Be Green
St. Patrick's Day Card Messages