What's your story? What are the biggest accomplishments in your life? You don't have to be an astronaut to have a great story. It could be your faithful devotion to gardening, crafts or family. It could be your love of hobbies like scrapbooking, reading or climbing mountains. What story do you want to tell?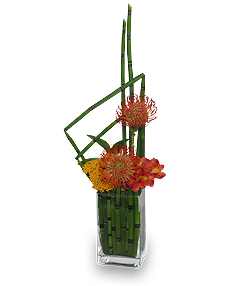 If you're having friends over, throwing a party, or just want a little pick-me-up for yourself, why not let your florist to tell the story through flowers? Most floral designers are very creative and would love the challenge of interpreting your story through color, flowers and accessories.
These custom arrangements don't have to be over-the-top or huge, but the subtle, creative ways flowers are arranged can tell more of a story than you might expect.
Here are some examples:
Yoga Guru – A yoga teacher wants to have a very special class with her students. She asks her florist to create something to tell the story of yoga through flowers. The florist creates something like the arrangement to the right. The bamboo-like Equisetum adds an Eastern quality to this arrangement and the way it's standing tall and used bent reminds viewers of the flexing yoga poses.
Step further: You might consider painting a yoga symbol or silhouette of a figure doing a pose on the vase itself. 8 flowers might also be used to symbolize the 8 limbs of yoga.
Garden Grower – A gardener misses their lush flower bed so much during the winter, she decides to order flowers for herself. She tells her florist her predicament and the florist suggests a garden themed arrangement. The florist uses a terracotta container, normally used in gardening, with lush greens and bright and cheery sunflowers. She creates a topiary-style arrangement to remind the gardener of flowers growing. Seed pods are added and rustic raffia is used to tie it all together.
Step further: A small shovel or trowel may be added to really hit home the story of gardening. If possible, actual garden plants and veggies may be added, such as ornamental kale, fruit, peppers, and I've even seen potatoes used!
Scrapbooking Queen – A scrapbooking fanatic is throwing a scrapbook party for her friends. She wants a centerpiece for her party that really goes with the theme. After talking to her local florist, she decides to take a few samples of scrapbooking supplies to her flower shop to incorporate into the floral design. The florist uses the beautiful paper to wrap the container in and even cuts out little butterflies from paper to add to the flowers. She mixes highly textured hydrangeas and wax flowers with sleek lilies to represent the scrapbook pages. The container is tied with raffia and buttons are glued to it. The arrangement matches the theme of the party perfectly and all guests are enthralled by it.
Step Further: Use press-able flowers in the design so guests can each take a flower to press in between books to use in future scrapbooks (or when scrapbooking about the scrapbook party!!).
How To Order Custom Flowers
So, how do you order these storytelling arrangements? First, find and get to know your local florist. (Flower Shop Network's florist directory is a great place to find real local florists.) Next, you can simply call and order your custom flowers. Your florist will be able to help you determine exactly what you need for your occasion. However, if you have something VERY specific in mind, read this post (or watch the video) about how to order flowers and get EXACTLY what you want.