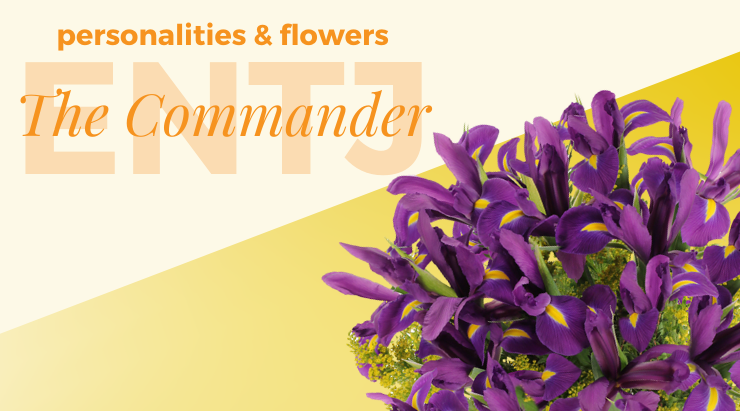 The Commander is decisive and loves accomplishment. They gather information to shape their own creative visions, but rarely hesitate before acting on them. They're natural-born leaders, embodying the gifts of charisma, confidence, and authority. Commanders are able to draw crowds together behind a common goal. Looking for the perfect flowers to send an ENTJ? We know just the ones!
ENTJ: THE COMMANDER
Commanders only make up 3% of the population and can be brilliant entrepreneurs and powerful business leaders. They can have a ruthless level of rationality and believe that with their drive, determination, and sharp minds, they can achieve anything. They love challenges, no matter the size. Commanders believe with enough time and resources, they can solve anything they put their minds to.
Strengths

Efficient
Energetic
Self-confident
Strong-willed
<>Strategic Thinkers
Charismatic and Inspiring

Weaknesses

Stubborn and Dominant
Intolerant
Impatient
Arrogant
Poor Handling of Emotions
Cold and Ruthless
Their Perfect Flower
Commanders are energetic and strong-will by nature, much like the iris. Irises are sophisticated and organized but are seldom overlooked, like ENTJs. They symbolize wisdom, hope, trust, and valor, making them the perfect flower for ENTJs. Does this sound just like someone you know? Send the ENTJ in your life a gorgeous arrangement with hydrangeas! They'll love the thought you put into it, and the stunning work done by your local florist.
]=;
Myers-Briggs Personality Types
For the uninitiated, the Myers-Briggs Personality Types are 16 different kinds of personalities based on qualities each person possesses: Introverted or Extroverted (I or E), Sensing or Intuitive (S or N), Thinking or Feeling (T or F), and Judging or Perceiving (J or P). An assessment of questions determines your type and can help you get to know yourself better and to understand why you behave in certain ways, how you view the world, and how you interact with others. Take a free version of the test here.