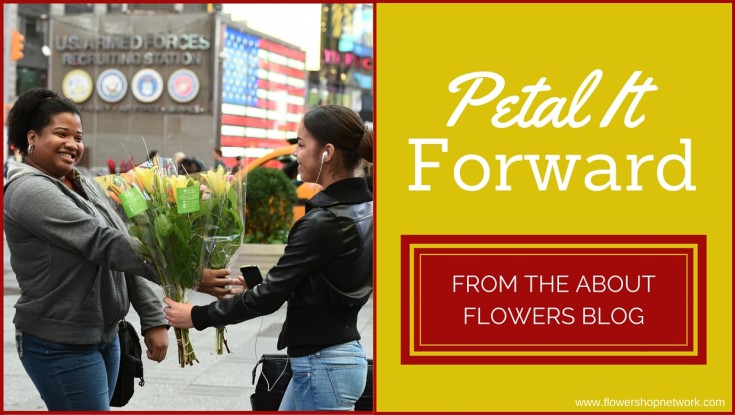 On Wednesday, October 9th, 2015, SAF held a wonderful event promoting flowers and making people smile in the streets of Time Square. Here are the results of this event coming from SAF's blog, aboutflowersblog.com.
Petal It Forward! Spreading Smiles, Warming Hearts
by Jennifer Sparks

It's all the rage – those positive acts of kindness where people "pay it forward" to make someone's day shine just a little brighter. Because flowers are the perfect way to do just that, we — the Society of American Florists — hit the busy streets of New York City today, handing out thousands of flower bouquets (4,000 to be exact) to busy morning commuters to help brighten up their mid-week slumps. Our way of paying it forward? To PETAL IT FORWARD!

We have university research that shows that a gift of flowers creates instant delight and increases enjoyment and life satisfaction. We also know from a recent survey that while 80 percent of people feel happy when they receive flowers, even more – 88 percent – report that givingflowers makes them happy. So, not only did we pay it forward and make peoples' day, but we gave recipients a chance to do the same, in a big way. They received two bouquets, one to keep (big smiles!) and one to share with a loved one, coworker, or even a stranger who needed a lift (off-the-chart smiles!).

The best part: In addition to New York, florists across the country are making the effort to petal it forward in their local communities this week, from New Hampshire to New Jersey to South Carolina to Illinois to Minnesota to Colorado to California to Alaska! More than 30 events are taking place nationwide.
To read the full article about the #PetalItForward NYC event, click the link below!