You might have caught our post on trendy Pocket Squares a while back. Well, Libby's Flowers, Gifts & More in Elberton, GA has taken it to a whole new level. We love this idea and had to share with you all!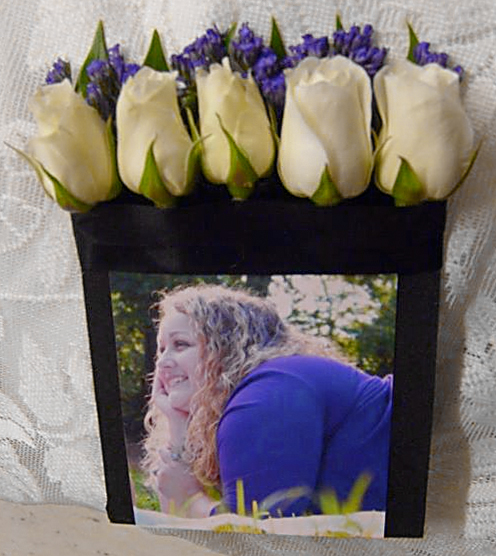 As you can see, the florist carefully attached a photo of the groom's sweetheart to the pocket square insert. This would then be placed in the tuxedo pocket, and although you cannot see the picture when it is in place, the groom will always remember he has her next to his heart.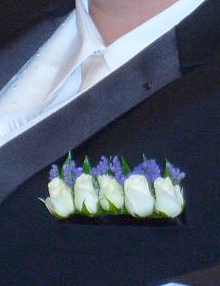 In the photo to the right, you can see how the floral pocket square looks when inside the tuxedo. It's really quite a unique look and gives the florist much more flexibility than the average boutonniere because of it's size.
The Floral Pocket Square Wedding Trend
The main reason grooms love pocket squares is that it moves the flowers further down, away from their face, unlike the boutonniere. This may not seem like a big deal, but for some picky guys is the only way to go. Also, this is a great solution for grooms with allergies. Now with the additional photo, I can see the pocket square trend really taking off with grooms.
Photos and other ideas for pocket square inserts:
Photos of fiance with pets
Photo of couple together
Photo of family, if couple has children already.
A photo of a departed family member to remind one that they are there in spirit
A poem about love that matches the couple
A special part of the self-written vows.
Keepsake or charm to cherish forever
A small keepsake from a special family member who may be there in spirit.
A small keepsake or charm that matches one in the bride's bouquet.
There are so many ways to customize these pocket squares to be unique for ever groom. Such a fantastic idea, thanks Libby's Flowers, Gifts & More!
If you want to see more about how to create pocket squares see this video: Pocket Squares How-To