FSN President Loranne Atwill and floral artist Robbin Yelverton, AIFD, AAF, CF, PFCI, led a hands-on workshop at the Great Lakes Floral Expo earlier this March. This workshop was a little different than the ones you usually see at state floral shows because it dealt more with photography than design. Attendees learned techniques they could use to take better photos of their floral designs.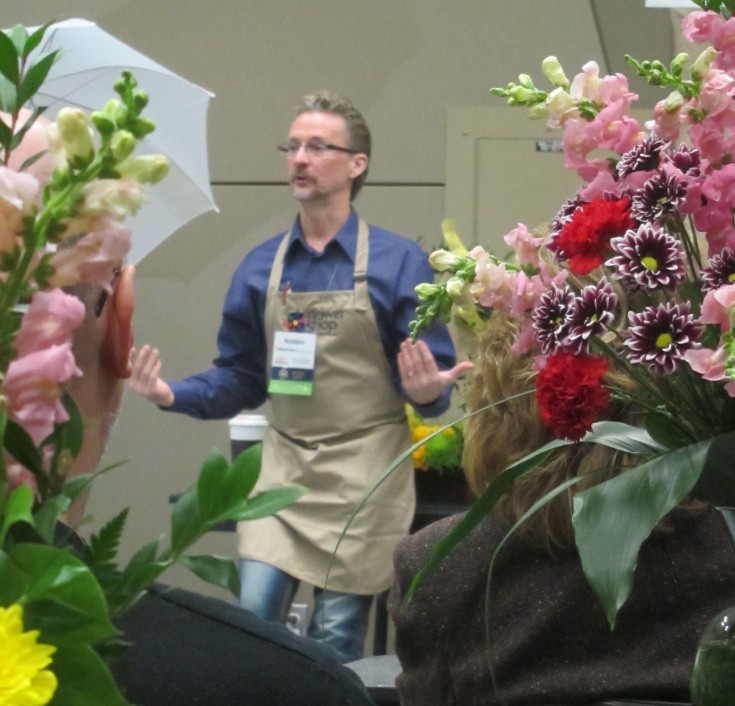 Class Description:
You have a Website… now you want to put your own custom designs on it. The arrangements look wonderful, but the pictures just don't do them justice – sound familiar? Learn great tips to making Web-worthy designs and photos in this session! You will make an arrangement in class, then learn how to photograph it for quality pictures for the Web.
No matter what skill level or type of camera, Robbin gives actionable ideas for getting the most out of your flower photography attempts.
Flower Photography Tips
Design For Size – Remember, pictures for your website will rarely be seen larger than 3 – 4 inches. Make sure your design isn't too complex that it will be lost or confusing to the viewer at a small size.
Dark in Design – If you are using dark flowers or foliage, be sure to compensate with extra light or other accents because they tend to be lost in the photo.
Show All Flowers – When designing for the camera, especially to use on your website, you want the customer to be able to see all flowers and products used in the design.
Backgrounds – Use a simple, clean and ironed sheet or fabric. A light gray is a good choice because it's rarely used in floral design.
Lighting – Using simple lighting found at any hardware store, you can take photos like a pro.
Light Angle – Angle your light INTO the arrangement so shadows fall to the floor, not the wall behind. You want your light to come from above at an angle, not directly from the front.
Perfect Lighting – It's a good idea to use full-spectrum light bulbs, preferably CFL bulbs at 100 watts for your photography sessions. If possible, set your camera's white balance to the right type of light bulb or put it on auto.
The Camera – You don't have to have the best equipment in the world to take good photos for your website. An easy-to-use point-and-shoot of at least 5 mega pixels will do the trick. Make sure it has a place to screw in a tripod.
Tripod Trick – The trick to good flower photography is truthfully the tripod.
Robbin goes into far more details in the video above, be sure to check it out!
About Robbin Yelverton
J. Robbin Yelverton, AIFD, AAF, CF, PFCI, is a retail floral shop owner as well as a professional floral designer/educator with more than 30 years in the floriculture industry. His wide experience as educator, designer, commentator, and shop owner is evident in his informative and exciting presentations. As an award-winning designer, Robbin has presented educational programs before the American Institute of Floral Designers National Symposium, regional and state floral associations as well as wholesale and retail audiences. He is a former Mississippi, Michigan and National Alliance of Floral Associations Designer of the Year. A former classroom instructor, Robbin's southern-influenced style, sense of humor and down to earth stage presence makes for an entertaining and educational program. His expertise in the sales, marketing and design of wedding, sympathy, holiday and everyday designs provide a diverse range of presentation subjects. As co-owner of Blumz… by JRDesigns, Robbin actively uses the social medias of Facebook, Twitter and blogging to market his own floral businesses and can provide helpful insight into their uses for the professional floral shop owner. Most recently, Robbin and his partner, Jerome Raska, presented "Signals… Effective Marketing Strategies" on the main stage of AIFD's 2011 National Symposium, "Imagine" in San Francisco.
About Loranne Atwill
Loranne Atwill, co-owner of Flower Shop Network, has been in the floral industry for more than 25 years. She has been involved in every aspect of the floral industry, from CFO of the former Redbook Florist Services to retail flower shop owner. Her strong business background, a BS in Accounting from Arkansas State University, combined with her natural creativity has helped her understand the challenges facing the retail floral industry. Loranne has directed the floral photo shoots for Flower Shop Network for the past 10 years. She brings her unique perspective and experience with floral photography to this session.