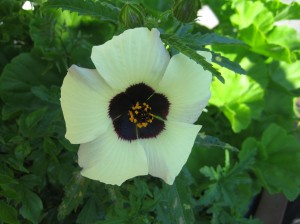 Ask The Plant Expert:
Can you put pine tags under potting soil in flower pots? Will it damage the plant? I put a large hibiscus plant in a large pot. I filled the bottom with pine tags to help fill the pot. Then I put potting soil on  top of the pine tags and covered the root of the plant with potting soil. Will the pine tags damage the plant? – Ann
Flower Shop Network Plant Expert reply:
No, the pine tags should not cause an issue with the hibiscus. I don't know of any problems that pine tags will cause other plants. If you are concerned about pine tags making the soil too acidic, you can always test the pH of the soil. However, I doubt that the pine tags would be able to change the pH and most potting soils have a neutral pH. Hibiscus prefer an alkaline soil.  You can use a pH meter to test the soil.  You will want a reading between 6.5 to 7.8.  Although I have seen hibiscus do okay with a soil pH of 5.5.
Hopefully this information was helpful.  Please let me know if I can help with anything else.