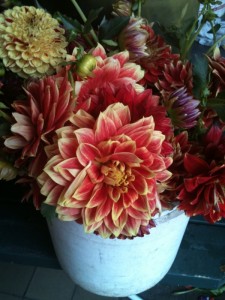 Ask the Expert: What kind of flower is this?
I saw this flower at the Seattle Pike Place Market but I forgot to ask what kind of flower it is?
The main color is a light pink with a yellow center and yellow on the tips.
Thanks for any help! Adam Lowe
Flower Shop Network Plant Expert Reply:I believe what you have is a type of Dahlia. This genus has about 30 different species and a variety of different flower forms: formal decorative, informal decorative, semi-cactus, straight cactus, laciniated, ball, waterlily, anemone, collarette, orchid and single. I am guessing that your Dahlias are informal decorative.
Depending on the form, some species have very open bloom with few petals –  while other species have tight blooms with an abundance of  petals.  Dahlias also come in a variety of colors: red, orange, yellow, pink, bi-color, purple, burgundy and white.
Dahlias bloom in mid-summer and are perennial in zone 9-11.  However, the tubers can be lifted in the winter and replanted in the spring in zones that are too cold.
Your local florist probably uses Dahlias in many of their flower arrangements.
Want flowers but don't have time to run to Pike Place Market? Call your local Seattle Florist. They can deliver flowers any where in the Seattle area.