What is Pinterest?
Pinterest is a Virtual Pinboard. It lets you organize and share all the beautiful things you find on the web. People use pinboards to plan their weddings, decorate their homes, and organize their favorite recipes.
Other reasons people use Pinterest:
Express yourself through pictures and images relevant to your life.
Remind yourself what you want to do, buy or revisit
Share or recommend things you think others should know about
Learn and explore specific or random topics.
Search and discover new or specific things to do, buy, look at or read.
All Pinterest members are active parts of the online word-of-mouth marketing team.
Best of all, you can browse pinboards created by other people. Browsing pinboards is a fun way to discover new things and get inspiration from people who share your interests.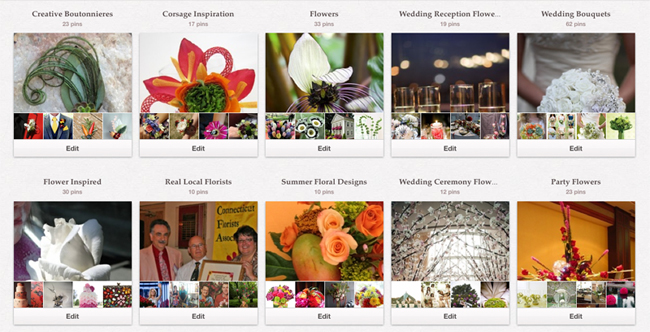 Where can you use Pinterest?
Everywhere! You can use Pinterest through their website, or via their apps for mobile smart phones! I know I am guilty of pinning on my phone when I get a few minutes to spare.
Who uses Pinterest?
The average Pinterest users are 30 year old females. Over 68% of Pinterest's current users are female. The user growth of Pinterest is skyrocketing.
How to get started on Pinterest
Getting Invited First, go to Pinterest.com and click 'Request an Invite' if you haven't already been invited by friends.
Create  Account Second, once you get your email from Pinterest, you'll need to create your account. You can either sign up as yourself or your shop. I would almost suggest starting with a personal account so you can figure it all out first, then come up with a good strategy for your business, but it's really up to you.
At the end of your signup, you will be asked to choose topics you are interested in. Pinterest will automatically select a group of people for you to follow based on your topics. I think you can skip this step and choose your own followers later.
Unlike Facebook, the people you follow and the people who follow you are not as personal as they are on Facebook. It's really all about the visuals on Pinterest, and you should be open to follow those who give you the most inspiration.
Create Pin Boards Third, create pinboards! I think Pinterests creates a few of these for you. You can keep these if they sound interesting to you, or delete them by using the 'edit' button.

 To create a new Pinboard, simply click the 'Add+' button at the top to create a board or add a new pin to these boards. There are SO MANY ways to set up boards. (More on that later)
How To Pin & Repin Now that you have boards to pin things on, it's time to get to pinning! This is the fun part. Simply click on the Pinterest logo at the top to go to the main page of pins. This will show you a collection of recently added pins. If you follow people, their pins will appear here. You can also choose from different categories of pins. Simply click the 'Everything' button below the Pinterest logo to see all of the different categories.
To pin something from Pinterest, hover your mouse over the image and click the 'Repin' button. You can then choose which board you want to pin it to by using the drop-down menu. You can create a new board from the Repin window if you need to.
How To Pin Your Own Stuff Or Images From The Internet Whether it's from your website, or another inspiration on the web, you can pin those things too. You can click the 'Add+' button at the top to begin.
If you want to pin an image from the internet, choose 'Add A Pin' from the 'Add+' window. This will prompt you to enter the URL of the webpage that you saw the image. Next it will display all images from that page and you must choose one. You will then have to enter a description for the pin. If you are pinning anything that doesn't belong to you, be sure to give them credit in the description.
If you want to pin one of your own pictures, you can choose 'Upload A Pin' from the 'Add+' window. Choose the image you want to upload. From there, you can choose which board to pin it to as well as add a description. Once you've pinned the pin, you can click 'See Pin' to see the finished pin. If you want, you can edit the pin to add your website's URL so when visitors click on it, they will be taken to your website. (This should only be used with your own content.)
How can Pinterest work for florists?
First of all, there are so many ways to use Pinterest, it's really open to all sorts of uses. However, I'll cover some of the current ways people use it.
Collect Your Styles & Inspirations
Create boards for different styles of arrangements and pin all of your inspiration for each style. For instance, you may make a board called 'Wreath Inspiration' and pin all the different styles of wreaths for many different seasons and holidays. Now whenever someone calls and asks for a wreath, you know just where to go for inspiration. Do this for all of your favorite styles. (See FSN's Wreath Love pinboard)
Create Your Portfolio
Show off your skills! Create a Pinterest board dedicated to your work. When you bring brides or other clients to your Pinterest page for inspiration, you can show them what you've already done. This gives them a good understanding of what your quality and skill.
Find New Tricks/Ideas
There are tons of crafters and DIYers on Pinterest. Tips and tricks abound! It's quickly becoming one of the top places on the internet to find a wealth of great ideas that you can apply in your flower shop. If your like me, you see great ideas all the time, but never can remember them. Now you can pin them all in one place! (See FSN's Tips & Tricks pinboard)
Wedding Consults
I would almost dare to bet over 50% of all pins have something to do with weddings. It has truly become the bride's best friend. Brides are pinning all sorts of wedding ideas, from food to flowers, to specific color schemes and settings, it's so easy! Not only could you have a board about 'Wedding Inspiration', you might have more specific boards such as, 'Yellow & Gray Wedding' 'Shabby Chic Wedding' to draw inspiration from.
If you're a florist who becomes a pinning addict (it's easier than you think), you might have dozens of wedding boards for brides to browse for inspiration. Say you have a bride who wants traditional cream and pink wedding, you could send her a link to the boards you think she might like for ideas. (Check out FSN's Wedding Bouquet or Wedding Ceremony pinboards)
Pin It Button & Other Goodies
To help encourage pinning, Pinterest has created a Pin It button for you to add to your web browser. By clicking this button on any webpage, it will bring up all images for you to choose one to pin. It will also link back to the website it's on. To add the button, go to the Goodies page on Pinterest, find the section about "Pin It" Button and drag it to the bookmarks section of your internet browser. (There is a video on the page to explain more)
This page also tells you how to download the Pinterest app for the iPhone, as well as 'follow me' buttons for your website.
Pinning Etiquette
Be Respectful  Pinterest is a community of people. We know that individual tastes are personal, but please be respectful in your comments and conversations.
Be Authentic  Pinterest is an expression of who you are. We think being authentic to who you are is more important than getting lots of followers. Being authentic will make Pinterest a better place long-term.
Credit Your Sources  Pins are the most useful when they have links back to the original source. If you notice that a pin is not sourced correctly, leave a comment so the original pinner can update the source. Finding the original source is always preferable to a secondary source such as Image Search or a blog entry.
Report Objectionable Content  We do not allow nudity, hateful content, or content that encourages people to hurt themselves. If you find content that violates our Terms of Service or Acceptable Use Policy you can submit the content for review by pushing the "Report Content" link.
Tell Us How to Make Pinterest Better  We're just getting started, so there are going to be bumps here and there. Let us know what's working, what's not. Even though we don't always have time to respond to each and every email, we take your input seriously. You can get in touch with us anytime at help@pinterest.com.
Copyrights & Pinning
Pinterest respects the intellectual property rights of others and expects its users to do the same.
There is a big argument in the online world about whether Pinterest pins are different from the Facebook shares and just how far does ownership go online.
Your content is your content. Pinterest allows you to pin and post content, including photos, comments, and other materials. Anything that you pin, post, display, or otherwise make available on our Service, including all Intellectual Property Rights (defined below) in such content, is referred to as "User Content." You retain all of your rights in all of the User Content you post to our Service.
Please remember that the Pinterest Service is a public platform, and that other Users may search for, see, use, and/or re-pin any User Content that you make publicly available through the Service.
Just remember, pins will get repinned and spread throughout Pinterest. It's a good idea to read Pinterest's Terms of Use and Acceptable Use Policy.
Are you a florist on Pinterest? Tell us how you use it in the comments below!
Don't forget to follow Flower Shop Network on Pinterest!