If there's one thing with which every florist is more than familiar, it's a dirty vase that seems impossible to get clean. Most of the time, they come to you as part of a vase recycling or re-purposing program, and we all know how important it is to get those vases completely disinfected and sanitized. The bacteria and mildew growing in an old vase can wreak havoc on anything you might wish to place in it! But regardless of its origins, nothing is more annoying than a disgusting vase that just will not come clean!
A Cleaning "Solution"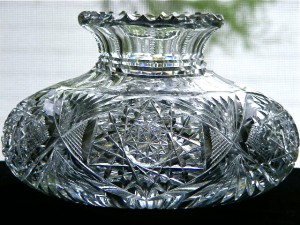 Well, no need to fret. Amy Bishop of Amy's Flower Basket in Albion, NE has found a brilliant solution! The next time you find yourself with a vase that resists the ministrations of soap and water, just fill it to the brim with hot water and drop in a couple of denture cleaning tablets. Give it a full 24 hours to soak, and then simply clean as normal. The end result will be a bright and sparkling vase, completely sanitized of any residual mildew or bacteria and ready for use!
Thanks Amy, that's a fantastic idea!
Amateur Application
Of course, this will also work at home. So for any of you non-professionals out there, go grab that old vase from under the sink or off the top of the refrigerator and give this tip a try! Or, if you'd prefer not to reuse your old vase, you should definitely check with your local florists to see if they have a recycling/re-purposing program available in your area. Some even offer a discount on your next flower purchase, so you can get rid of the old, empty and busted to make way for some new hotness!
Do you have an idea or tip that you'd like to share? We'd love to hear from you! Just leave your idea in the comments below, and who knows, it might be the subject of our next blog post! Also, if you'd like more information on creative ways to use vases, check out this previous post!