For everyone planning to attend the Tennessee State Florists' Association and Central Tennessee Professional Florists' Association's annual convention this weekend, make sure you've scheduled enough time to watch the presentation being conducted by renowned floral designer and friend of FSN, Regina Berryman, AIFD, AAF, CFD. She has an exciting take that infuses natural principles of art and will help you take your own work to a whole new level!
Introducing Regina Berryman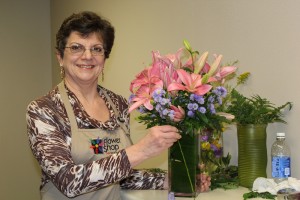 If you don't know, Regina is a Brazilian native who came to this country over thirty years ago. While growing up in Brazil, she experienced all different brands of flora and fauna, as well as a vast array of different species of flowers. Her love for their fragile and delicate allure did not diminish when she became an American citizen, and now, through her pursuit of that passion, she studies with some of the finest floral designers in the country!
An accomplished instructor herself, Regina has participated on some very prestigious design teams such as the Presidential Inauguration and The Society of American Florists' Conventions. If you would like to see some examples, Regina's work can be seen in our very own Flower Shop Network Flower Gallery!
Fibonacci Theory & Floral Design
Regina's exciting theories regarding floral design are based on principles borrowed from an amazing discovery made over 700 years ago called the Fibonacci Theory. The theory was founded by a mathematician named Leonardo Fibonacci who lived in the 12th and 13th centuries C.E., and it can be observed in almost every aspect of the natural world.
I know what you're thinking, "What does an ancient mathematician have to do with floral design?" Regina can best answer that question for you during her presentation, but the gist is that she uses these mathematical principles and applies them to proportion, ratio and overall aesthetic beauty. The basic concept espouses that although symmetry can be beautiful, true visual pleasure exists in an asymmetrical design partitioned into the proper proportions using a 3-5-8 ratio.
If that peaks your interest, be sure to attend the convention and see Regina Berryman in action as she demonstrates her use of the 3-5-8 ratio in floral arrangement and design.
The TNSFA and CTPFA Convention
C'mon out folks, it's going to be a great three days and, as always, Flower Shop Network will be there to document all the exciting events!
The convention is hosted by the Tennessee State Florists' Association and Central Tennessee Professional Florists' Association, and will begin Friday August 2nd and last through Sunday August 4th at the Embassy Suites in Murfreesboro, Tennessee.
We can't wait to see you there!