About a month ago, we asked our florist friends to submit their predictions for the Royal Wedding bouquet! We were blown away by the incredible submissions! After finally getting a peak at Kate's bouquet, we've narrowed down the submissions to the 3 closest choices. Florist Shane Connolly went with something a little different than I think most florists were thinking. The bouquet was actually small, and predominately featured Lily of the Valley and myrtle. As tradition dictates for royal weddings, the bride's bouquet contains a sprig of myrtle from the original myrtle bush planted by Queen Victoria at Osborne House, Isle of Wight in 1845. It also contains a sprig from a plant grown from the myrtle used in The Queen's wedding bouquet of 1947.
None of our submissions were spot on, so it's going to be a tough choice for the winner.
WE NEED YOUR HELP! Scroll to the bottom and select which florist you think should win!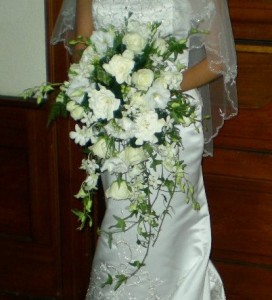 Created by Jennifer of
Joy's Floral & Gift, Powhatan VA
http://www.joysfloralandgifts.com/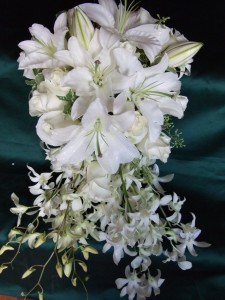 Created by Nancy of
Alma Blooms, Alma WI
http://www.almablooms.com/
Above 3 created by Tina of
Perfect Rose Floral Design, East Islip NY
http://www.perfectrosefloraldesigns.com/
Who do you think best predicted the Royal Wedding Bouquet?
A Perfect Rose Florist (64%, 90 Votes)
Alma Blooms (34%, 47 Votes)
Joy's Floral & Gifts (2%, 3 Votes)
Total Voters: 140

Loading ...
We will announce the winner on Tuesday, May 2nd. Good luck! Thank you for ALL of the submissions!
This post is brought to you by Flower Shop Network, your source for finding real local florists anywhere in the US and Canada.