Ask The Plant Expert: I got a baby anthurium as a Christmas gift, and I have been watering about 300ml of water every second day. Most of the leaves have like brown, dead patches on them, and the flowers are turning brown slowly as well. What do I do?? Please help.
Flower Shop Network Plant Expert Reply: Anthuriums are a tropical plant originating in Central and South America. That means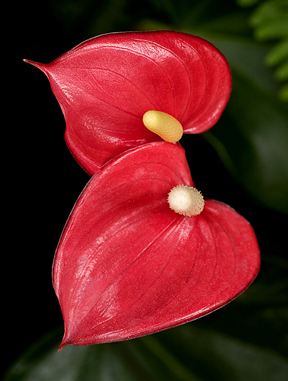 they need a lot of water and humidity. It is a good idea to mist your anthurium every day and keep watering every other day. You can also keep your anthurium on a tray of pebbles with water to increase moisture and humidity.
The best rule of thumb is to do the soil squeeze test. Stick your finger down in the soil up to your first joint. Pull a small amount of soil out. If you can roll the soil into a ball and squeeze out water or if the ball stays together, you don't need to give the plant anymore water. If you can't roll the soil into a ball and it is powdery, give it some water.
The plant will tend to need more water during the spring and summer even if kept inside. During the fall and winter, you can reduce your watering depending on your specific environmental conditions.
Sunlight could also be a factor for the browning of your anthurium. While, they do enjoy long sunny days, they prefer it to be filtered. Do not put your anthurium in direct sunlight. If you are unable to give your plant filtered sunlight, you can use artificial light. It's best to give your anthurium at least 9 hours of light a day.