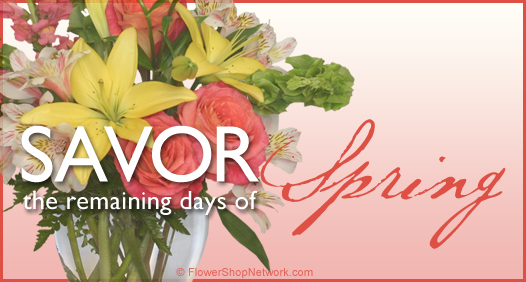 The last days of spring are upon us; summer officially begins on June 20th.
While it already feels like summer in a lot of places, it's not official yet! Why not celebrate the remaining days of spring while you can? This year is going by quick enough, it's time to settle down and pay more attention to the changing seasons.
5 Ways You Can Savor Spring
Ordering Spring Flowers – You know I have to suggest it, but it's true! Nothing shouts SPRING more than spring flowers. Don't think you have to send them to anyone either, order them as a treat for you and your family. However, if you have a friend who needs a boost in spirits, spring flowers are the way to go!
Spring Picnic – While you can enjoy these in summer, it's often too hot. Spring is the perfect time for picnics and family get-togethers.
Spring Cleaning – This isn't necessarily fun, but very spring! Cleaning helps us take the load off, both literally and mentally. Clearing clutter in our homes helps in so many aspects of our life. Plus you'll have plenty of time to enjoy summer and not have to worry about cleaning.
Makeover Madness – Spring clean doesn't have to stop at the house; treat yourself to a makeover, facial, pedicure, haircut or any other pampering. This will make you feel youthful, energized and ready for summer!
Cloud Parade – Take some time to get outside! While temps are still comfortable, take a blanket, towel or yoga mat outside. Lay back and watch the parade of clouds go by. Invite friends or family to join you and challenge each others' imagination by spotting shapes in the clouds.
While these are just a few suggestions, there are hundreds of ways you can enjoy this time of year. However you do it, enjoy yourself! Take the time to stop and smell the roses. Don't let spring pass you by without taking full advantage of it!