Ask The Expert: This woody, palmate, rounded lance-shaped leaf plant grew out of a viney, heart-shaped alternate-leafed pathos.  More than once.  This is the only one I saved.  My friend has one about six feet tall, and she said it was an "elephant- bush", or something, but I can't find anything like it.  The trunk is uniquely twisted, or meandering.  The other identifying info on the trunk is that it is layered, like some palms, like a grass. -David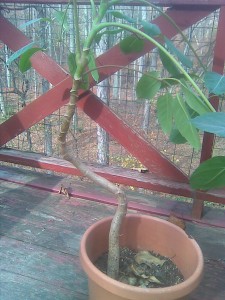 Flower Shop Network's Plant Expert Reply: David, what I believe you have there is a Schefflera actinophylla (also called Brassica actinophylla), also know as "green Schefflera" or "octopus tree." A hardy, evergreen shrub that is popular as a houseplant. It can withstand tough conditions making it perfect for any living arrangement. A green Schefflera in good condition looks more like this: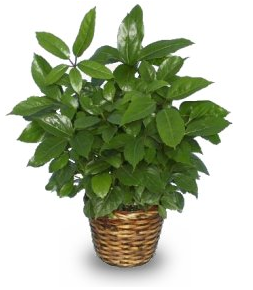 You said your friend's green Schefflera tree is 'uniquely twisted', this is not surprising. This type of tree is easy to shape and lends itself well to bonsai art.
This plant flourishes in a lot of light. Green Schefflera require an evenly moist environment. Water moderately during growth and keep only moist to the touch in winter. For more, go to Green Schefflera House Plant Care and Information.
This post is brought to you by local Knoxville, TN florists.
Not in Knoxville? No worries, Flower Shop Network connects you to your real local florist!