It's that time of year again, folks. School buses are being fueled, teachers are working hard to prep classrooms and the band, football team, and cheerleaders are beginning all-day practices. Department stores are receiving extra shipments of clothes, backpacks, pens and notebooks, and friends who have been separated for the summer are fervently texting and Facebooking about being reunited.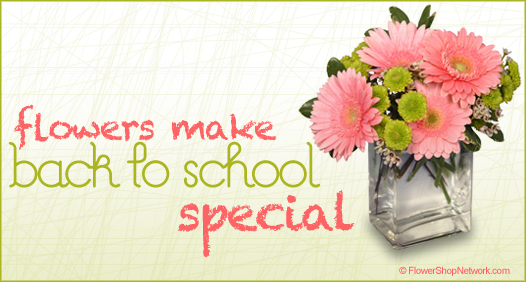 It's Back-To-School Time
With the start of classes, it becomes necessary to stop and consider how to make that first day go as smoothly as possible. My first day was always an eclectic mix of being under-prepared, lost and uncomfortable in my new clothes, but I'm sure you're way more prepared than I ever was. Still, that's not saying much. You may believe you've already got everything you need, but whether a parent, student or teacher, there is most likely one purchase you have yet to make.
The Power of Flowers for Back to School
I'm talking about flowers, of course! Fresh blooms fulfill multiple roles, all of which are perfect for the first day of school:
A Symbol of Love – Flowers have long been held as a symbol of love and friendship. They make the perfect gift for two young, reuniting lovers who have been kept apart by the long summer, (Well played Mom and Dad, well played.) a parent sending an apprehensive child off to a new school, or a teacher whose spouse wants to see them out the door in the right mood to start the year. If love is the emotion you want to express, look no further than white roses, forget-me-nots and of course, the traditional red rose. Pair them with a hug or kiss and there will be no doubts about how you feel!
A Symbol of Joy – There's no better way to express your happiness at seeing old friends than with a handful of multi-colored Gerbera daisies, hydrangeas or yellow roses. (Well, those and maybe an unbridled dance of joy, but let's be honest, that was going to happen anyway.) These flowers are traditional symbols of friendship and devotion and are beautiful to boot! Getting to see long-absent companions again on the first day of school isn't an activity limited to students. Many teachers find themselves separated during the summer months as well, and anyone would welcome a gift of flowers to begin the year with a bang!
A Symbol of Thanks – A long-standing tradition is to bring an apple as a symbol of gratitude for your teacher's tutelage.  I submit that a teacher can eat only so many apples before developing a stomach ache. In lieu of providing your professor with food, might I suggest a simple peach rose, a handful of hydrangeas or a couple of yellow tulips. The gift of flowers will be sure to bring a smile to her face without the danger of any unexpected gastrointestinal shenanigans later on.
As you can see, flowers make wonderful gifts for back-to-school or anytime! The best part? Any or all of the blooms mentioned above are popular flowers and will be available at your local florist requiring little or no previous notice. Call your local florist today and see what they have to offer!