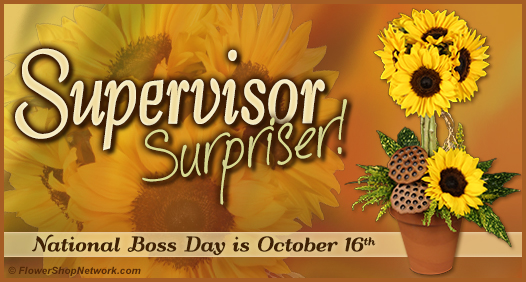 Of all the upcoming holidays, National Bosses Day is one that is sometimes easily over-looked. Not this year! Even bosses need a little
encouragement; give Bosses Day gifts that will leave your boss feeling good about themselves for being a great and fair boss.
Where to Find Bosses Day Gifts
Your boss, for better or worse, deserves at least one day of recognition. Gifts for Bosses Day couldn't be easier. Simply give your local florist a call and order a special flower arrangement for your boss. It will only take a few minutes and your florist will take care of all the rest. Just think, who doesn't love surprises? Your boss won't be expecting flowers to walk through his or her doors.
The arrangement to the left, Pot O' Sunflowers, is a great example of Bosses Day flowers. Not only are sunflowers perfect for the holiday, they are also a favorite flower of fall.
If you think flowers might not be your bosses thing, your florist can still help you out. Most offer gift baskets and other gift items. If you're still up in the air about what to get your boss for Bosses Day, check out: