A sister is one who reaches for your hand, and touches your heart.
There is no coincidence that Sisters Day and National Friendship Day both fall the first Sunday in August! (August 5th) That's because, a sister is built-in, always around, never forgetting, put-it-together kind of best friend. Through the ups and downs of life, she has stood next to you, sharing and experiencing the joys of childhood and the journey to adulthood.
Celebrate your sister by sending her a beautiful flower arrangement! Flowers are the perfect gift for the sister who lives far away, for the sister around the corner, or for the sister right there in your own home.
Talk with your local florist about creating a meaningful arrangement that speaks to your sister and reflects her personality. Gladioli, pink roses and poppy are three flowers that represent friendship, making them a great choice for a custom-made arrangement, especially designed by you. Including your sister's favorite flowers and colors in the arrangement will surely make her smile. With flowers, you just can't go wrong!
Great Ideas For Sister's Day Floral Gifts
Sisters are different flowers from the same garden.
Quotes inspired by sisters (Great for Sister's Day Card Messages!)

Sisters are the blossoms in the garden of life. – Author Unknown
In the cookies of life, sisters are the chocolate chips. – Author Unknown
A sister is a gift to the heart, a friend to the spirit, a golden thread to the meaning of life. – Isadora James
The best thing about having a sister is that you always have a friend. – Cali Rae
There is no better friend than a sister & there is no better sister than you! – Author Unknown
Our roots say we are sisters, our hearts say we are friends. – Author Unknown
Sister to sister we will always be, a couple of nuts off the family tree. – Author Unknown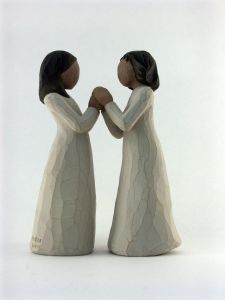 Special Friend – by Jill Neubauer
I wish that you were here with me,
Or I were there with you.
We'd laugh and cry,
My friend and I –
And gab the whole night through!
But since you're there
And I am here,
I guess there's just no way.
So over the miles,
I'll send you my smiles
And wish you a wonderful day.