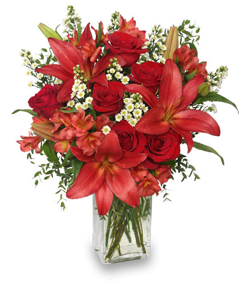 Valentine's Day will be here before you know it guys, and it just so happens to land on a THURSDAY! Thursday is not really a very romantic day of the week, but since it's Valentine's Day, we have to make it work!
First off, don't let your lady be the only one at the office without Valentine's Day flowers. This is especially true if she works a desk job. Flowers are a staple of Valentine's Day gift giving! Your girl deserves much more than all of the others at her office!
If you REALLY want to get on her good side, have her flowers sent on MONDAY! This creates a romantic mood that will last all weekend. Valentine's Day could easy be a weekend-long event! Isn't she worth it, guys?
Related Articles:
How To Surprise Your Sweetie With A Romantic Valentine's Weekend!
Floral Design With You In Mind: How To Order Custom Flowers
Get Ready! Valentine's Day Will Be Here Soon! (Newsletter)
Buying Last Minute Valentine's Day Flowers: Why Wait?!
Valentine's Day Card Messages To Send To Your Sweetie