Discover Fall Treasures



Labor Day, the traditional signal for the end of summer, has passed, and the autumnal equinox is just around the corner. Soon summer's warm breezes will yield to the nippy gusts of fall, and the vibrant green leaves adorning every tree will explode into yellows, oranges and reds, signaling an imminent descent to the grass below. The chill touch of autumn is coming, and with it, the beautiful flowers of fall!
These colorful blooms, chrysanthemums, asters, sunflowers, snapdragons and many more combine to offer florists a colorful palette with which to paint their floral portraits. Search for motivation in the infinite swirl of opportunities, receive inspiration in nature's gorgeous exhibition and be roused by the swift changing of the season.
There are a world of treasures to be found this fall. Where will you find yours?
---
Best Reasons To Send Flowers In September
Summer is starting to wind down and fall begins this month. So it is last hurrahs and back to school. Cold rainy days will be be here before you know it so make every day count!
Grandparents Day (September 8th) – This is a day to celebrate the love and kindness that only grandparents give.
First Day of Autumn (September 22nd) – It will officially be fall and what better way to get ready for fuzzy scarf weather, turning leaves and hot chocolate cravings than to send someone a gorgeous fall bouquet.
Gold Star Mother's Day (September 29th) – This is a day for people to recognize and honor those who have lost a son or daughter while serving the United States Armed Forces.
September Birthdays – For all those fall babies out there, the flower of the month is the lovely aster in so many colors like pink, red, white, lilac and mauve.
Continue reading Reasons to Send Flowers in September
---
Still Time to Order Flowers for Grandparents Day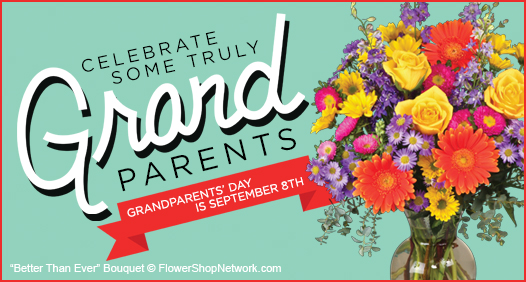 Grandparents Day is the perfect time to show your grandparents what they mean to you and your family. Mothers and Fathers Day are always big celebrations for showing that we care, so forgetting about Grandparents Day this year isn't an option.
In 1978, President Jimmy Carter dedicated the first Sunday after Labor Day as National Grandparents Day. As it is a nationally recognized holiday, let's take the time to honor our family and learn about ours roots. Consider visiting with your grandparents and listening carefully to those oft-told stories. Ask questions that dig deeper about a time that is quickly disappearing. Our children learn about their heritage and gain respect for their elders during these visits so make it a good one. Have grandma write down her favorite recipe or have grandpa show you his coin collection. You'll be happy to make some new memories.
Continue Reading Still Time to Order Flowers for Grandparents Day!
---
Facebook Friday: August Favorites



We recently started a Friday recap of all the wonderful posts and pictures from active florists on our Facebook Page. It's been so much fun seeing all the completely different designs every day. We hope you enjoy these favorites and continue through to see more from each Friday this month:
| | | |
| --- | --- | --- |
|  Flowers & More, Fresno, CA | Crossroads Florist, Mahwah, NJ | Monday Morning Flowers, Yardley, PA |
| Adele-Rae Florist, LTD., Burnaby, BC | Wilma's Flowers, Jasper, AL | Monday Flowers, Princeton, NJ |
See all Facebook Recap pictures in these posts:
---
FSN at the Arkansas Florists Association Convention



If you didn't get a chance to make it to the Arkansas Florists Association 61st Annual Convention and Trade Show, you missed quite an event! Not to worry, FSN was present and accounted for and is here to delight and entertain you with our experiences from the weekend. So sit back, relax and enjoy these gorgeous photos detailing all the fun we had in Hot Springs, AR!
---
Discover Fall Flowers
Who can resist the palette of autumn hues? As the temperature gets cooler, fall into fall with the beauty of fall colors and flowers. Whether it be a basket of fall flowers, or a rustic mum houseplant, treat yourself to fall flowers. There's no better way to celebrate fall than with the natural beauty of the season.
Read more about Discover Fall Flowers
---
FLOWER CARE TIP
If your flowers came in a basket or other container with foam, add fresh water every day.
More Flower Care Tips
WE'RE SOCIAL!








Love flowers? Follow us on the above Social Networks! We are always sharing the latest articles from our Bloomin' Blog, as well as the most fascinating news on the net!
You Might Also Like



How To Submit Your Weekly Photos To FSN
We love getting flower photos from you every week. We are so inspired with the ongoing creativity and beauty you share with us all the time. Never hesitate to show off your talent!
TNSFA Tabletop Competition
Now we're going to show you some photos of candidates for this year's Tabletop Competition! One thing's for sure, people at this convention were never bored!
The Rustic Spirit of Fall Through Flowers
And with fall right around the corner, now is the time to start thinking Autumn colors! You want your rustic-themed bouquets and flower arrangements to look effortless, chic and natural.
Perfect Flowers For September Birthdays
Beautiful flowers will create birthday memories to hold close to heart, especially if your recipient works at a desk job. There's just nothing better than your beautiful birthday gift greet you with it's bright and cheery colors every morning as you walk into your office.
Need more inspiration? Check out our sister site, Wedding & Party Network's weekly blog — Inspirational Fridays!
Help make Flower Shop Network's monthly newsletter even better! Got questions? Have an idea for a story? With your help, we can make the FSN newsletter just what you want and need. You can drop us a note in the comment section on the blog or email us at social@flowershopnetwork.com. We can't wait to hear from you!