September: The Season For Sunflowers

No matter how hot it gets, summer is always a favorite time of year. The outdoor fun, cookouts, shorts and flip flops — what's not to love? As summer draws to a close, its easy to catch the blues. This year, savor summer til the very last drop.
A great way to do this is by bringing the joy of summer indoors to enjoy at all times. How? Sunflowers! The sunflower is named after its huge, fiery blooms, whose shape is often used to represent the sun. Adding sunflowers to your decor will bring you happiness and warm-summer feelings during all hours of the day. They are also a great decor addition as we descend into fall.
Think of where you could use a little sunshine, perhaps the office? Of course! Pamper yourself with a little sun; send yourself sunflowers! It's okay to spoil yourself once in a while.
Continue reading Send Sunshine & Sunflowers
---
What Do You Get A Gold-Medal Gymnast? Puppy Flowers!
Like many others this August, I couldn't get enough of the Summer Olympics. Not only was I watching, I was keeping up with my favorite athletes on social media. One of my favorites to follow is McKayla Maroney, the American gold medal gymnast. Recently, she posted, "NO WAY.. puppy flowers!! tooo cute" in response to receiving a puppy flowers arrangement! That's right, McKayla Maroney loves puppy flowers! (But who can resist their cuteness?)
Although a special request, puppy flowers are available at many flower shops across the nation. This is a great gift for girls from 5 to 50.
Read more about sending puppy flowers

---
Take Her Breath Away – Bring Home Roses Tonight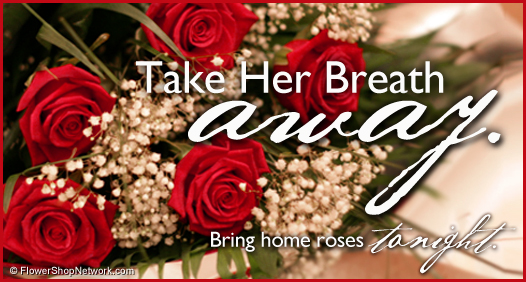 It's not her birthday. It's not Valentines or an anniversary, but it is the perfect day for a little passion. Why? Because any day can become romantic, especially when it's spontaneous.
Take her breath away by bringing home the beauty and romance of roses, the traditional gift of romance. Your local florist will always have exactly what you need to show your sweetie how much she means to you. It's so easy to stop by your flower shop on the way home from work and pick up a bouquet in her favorite color.
Click to read more about taking her breath away!
---
Facebook Friday: August Favorites



We recently started a Friday recap of all the wonderful posts and pictures from active florists on our Facebook Page. It's been so much fun seeing all the completely different designs every day. We hope you enjoy these favorites and continue through to see more from each Friday this month:

Monday Morning Flowers,
Princeton NJ

A'Bloom LTD,
Walkersville MD


TCU Florist,
Fort Worth TX


Crossroads Florist,
Mahwah NJ


Brenham Flowers,
Brenham TX


Buds & Blossoms,
Edgewood MD

See all Facebook Recap pictures in these posts:
---

Flower Shop Network On The Road
FSN was on the road a lot during the month of August. So many great florist conventions, and you're in luck, we had a camera ready!
The North Carolina State Florist Association Convention was in Greensboro, NC. Don't miss our pictures from "Fantasies, Dream, Imagine and Create."
The Arkansas Florist Association hosted their 60th Diamond Jubilee celebration as well as the Mid-America Cup Competition this year in Hot Springs AR.
Click to see the pictures!
We always have a great time when visiting florist shows and conventions. Seeing our florist friends who we rarely see once a year, as well as fresh faces of the industry is always an exciting time. We hope to see you at our next stop!
---
Flower Ideas For September Birthdays
For an September birthday, celebrate the end of summer with warm colors and a mix of summer and fall flowers.  Office flowers are an instant mood changer, and bright, cheery flowers always do the trick!
How do you send flowers for a September birthday?
The official birthday flower for September is the aster. It's a cute little accent flower, but when sent for a September birthday, the aster makes a big impact! Ask your florist to add extra asters for your September birthday buddy! Below are examples of beautiful arrangements with asters you can send from your local florist.
 Continue reading for more September Birthday Ideas
---
FLOWER CARE TIP
If your
flowers came in a basket or other container with foam
, you still need to add fresh water every day.
More Flower Care Tips
WE'RE SOCIAL!








Love flowers? Follow us on the above Social Networks! We are always sharing the latest articles from our Bloomin' Blog, as well as the most fascinating news on the net!
You Might Also Like



Fairy Garden at the Flower Shop Network Booth in NC
No question about it, our booth flowers at this year's North Carolina Florist Association Convention were unlike any we've ever had before. Derek from Young's Florist from Kernersville, NC shows off his creativity with this truly inspired, massive fairy garden.
Grandparent's Day is Sept 9th – Spoil Them For A Change
Grandparent's Day is the time of year we get to spoil our Gram-gram and Pop-pop like no other. We go all-out for Mothers and Fathers Day; you can't forget your grandparents who go all-out for you.
2012 AIFD Symposium – An Unforgettable Experience
One of the florists in our network had the marvelous opportunity to attend the AIFD National Symposium in Miami and has shared her story with us. Lori Himes, AIFD, CFD from A'Bloom LTD in Walkersville MD tells us all about this once-in-a-lifetime floral experience.
Rustic Beach Wedding by Back to the Fuchsia Florist
This is a guest post by Jeanne from Back to the Fuchsia, a flower shop in Saugatuck MI. "The bride for this wedding gave me a few flowers that she liked, the colors that she wanted and the rest was up to me…"
Help make Flower Shop Network's monthly newsletter even better! Got questions? Have an idea for a story? With your help, we can make the FSN newsletter just what you want and need. You can drop us a note in the comment section on the blog or email us at social@flowershopnetwork.com. We can't wait to hear from you!