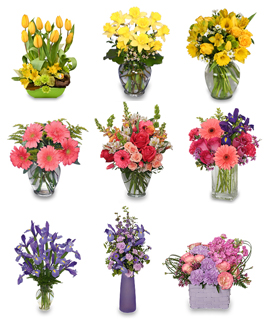 It's impossible not to love the feeling of spring. That first day when you are able to go outside without a jacket is always wonderful. When you can enjoy the night air without your teeth chattering, you know your heart feels light and free. It's simply human nature to bask in this glorious season.
There is a part of spring that makes it somewhat difficult, however, and that is all the rain. They say April's showers bring May flowers, and that is definitely true. The spring saturation enables summer flowers to grow with gusto. There are many spring flowers that don't mind the showers: daffodils, hyacinths, tulips and irises. These perk their colorful heads up as soon as they feel the slightest amount of warmth.
Enjoy Spring Flowers Inside (Without the Rain)
Spring rain might stop you from enjoying spring flowers outside, but there is still a way to enjoy the colors of spring indoors. Simply contact your local florist and order yourself a bundle of spring! You can order something from their large selection of spring designs, or ask them to create something special just for you using their freshest spring flowers. Either way, flowers are the best way to enjoy this wonderful season.