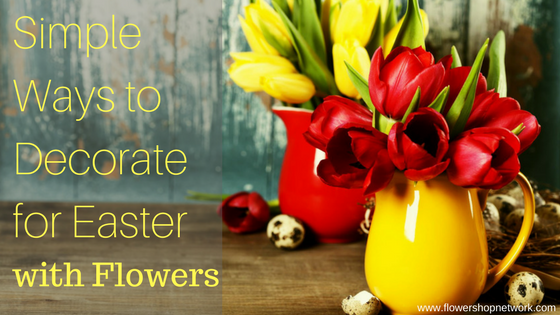 Have you been making plans for Easter? You probably have a menu full of tasty food planned out and know the perfect hiding places for all those eggs. But have you thought about how you're going to decorate your home for the holiday?
There are so many different elements you can use to decorate for Easter. Fresh spring flowers, vegetables, eggs, fun containers…The list goes on and on. Here are a few simple ways you can liven up your home for Easter.
This centerpiece is simple, yet elegant. Use plastic or foam eggs to conceal a vase in the center of your wire basket. Place your flowers in the vase with water, and you're good to go!
These carrots won't be for the Easter bunny! The tops of the carrots make great foliage and the orange of the carrots add a fun pop of color. Add in your favorite spring flowers and your table is set.
Tulips are one of Spring's greatest gifts. Give your place settings a special touch by placing a single tulip (or your favorite flower) on your napkins and wrapping them in a ribbon.
Buckets, umbrellas, teapots, oh my! They all make wonderful containers for arrangements and put a fun spin on the traditional vase.
How do you plan to decorate your home for Easter? Let us know in the comments, or give us a shoutout on Facebook and Instagram!
Not sure where to find the freshest flowers for your table? Find your local florist by clicking the button below.