In our growing, high-tech world, companies using social media are seeing big benefits. However, it's easy to feel overwhelmed. Businesses are told they need to be on Facebook, Twitter, Google+, Pinterest, LinkedIn, Instagram and many others, with more popping up every day. By using social management tools, you can streamline your social efforts into a routine that works for you.
Built-in Social Management
Facebook allows you to schedule posts, pictures, and more right from your Business Page. The next time you are posting a status or photo to your Page's wall, click the little clock icon to schedule it to post at a later time. By scheduling a weeks worth of posts, you can take a lot of time out of your social media routine.
Unfortunately Twitter does not have a way to schedule posts from the website, but there are many social media management tools that will let you do this. (Keep reading for more.)
Email Notifications
Another great way to cut down your time on social media sites is by having all important notifications sent to your email. Instead of needing to check each day for notifications, you can simply check your email and determine if anything requires your attention without having to login to the social networking site.
Social Management Tools
What are Social Management Tools?
Social Management Tools are web apps and programs that allow you to manage your social networks in new ways — anything from scheduling your Twitter posts, to completely managing all social profiles without having to leave the page. These tools will make it easier for you to schedule and maintain your social networks in less time.
Top Social Management Tools
Hootsuite – HootSuite is the most popular social media management tool for people and businesses to manage multiple social networks, like Facebook and Twitter, from one web-based dashboard. In the free plan, you can track up to 5 social profiles, access basic analytic reports, schedule messages and more.
Hootsuite Pros: The robust free version offers tools for tracking conversations and measuring campaign results via the web or mobile devices. You can see all of your social profiles at a glance, and updates are a breeze.
Hootsuite Cons: The pro and enterprise solutions, which cost a monthly fee, have a lot more of the tracking and measuring features, such as managing unlimited social profiles, enhanced analytics, advanced message scheduling, Google Analytics and Facebook insights integration. Hootsuite can also be a little overwhelming for those beginning social media.
Buffer – Buffer offers a quick and easy way to schedule and post to all of your social media profiles, such as Facebook, Twitter and LinkedIn.
Buffer Pros: Buffer focuses on superior scheduling flexibility making it a simple choice for new users.  Many people use both Hootsuite (to listen) and Bufferapp (to schedule).
Buffer Cons: Buffer is not as full featured as Hootsuite, and does not let you see posts from your social networks.
TweetDeck– Tweetdeck is a dashboard very similar to Hootsuite, but instead of being web-based, it is a program that runs on your computer — much like a Instant Messengers.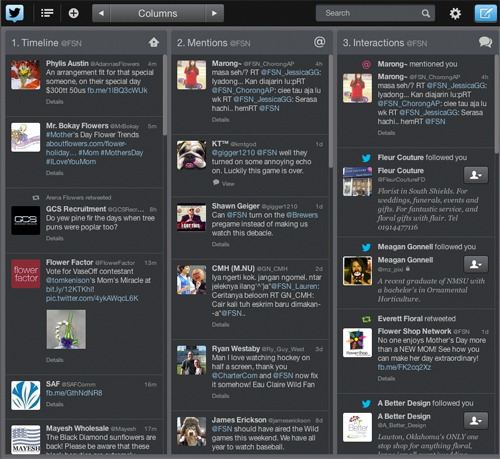 TweetDeck Pros – Tweets and posts can be set to 'pop-up' with new alerts automatically or at times you choose.
TweetDeck Cons – Twitter recently bought TweetDeck and it has undergone some major changes lately. I still recommend this program, but don't get too attached to your favorite features.
These are just a few of the many social management tools available. These tools are a great way to improve your social networking experiences and keep your followers up-to-date.
More Social Media Time Management Tips
1. Know Your Goals – Figure out what gets results from your audience and do more of it, such as posting photos or asking questions.
2. The In Crowd – Know where your local audience is and concentrate on that network.
3. Planning Ahead – Schedule posts in advance when it fits into your routine.
4. Perfect, Smerfect – Don't waste time with perfection, just be yourself.
5. Set Time Limits – Keep distractions at bay.
6. Be You – Represent your flower shop as you would in the store.
7. Start Single – Master one social network at a time.
8. Create A Calendar – Daily reminders of content topics will make it easy.
9. Use Email Alerts – Makes it easier to respond and monitor interactions.
10. Delegate – What tasks do you need to do? What can you assign to others?
11. Local Local Local – Concentrate on where you receive the best local results.
12. Boost Interaction – Respond and encourage engagement and sharing of your content.
13. Give More, Get More – By posting photos, asking questions, and tailoring posts to get more interactions (likes, comments), you will increase your Page's visibility.
14. Social Feeds – Use tools that work with or feed into other networks, such as Instagram and Facebook.
15. You Have Content – Share specific pages of your website or even post great reviews. FSN also posts great floral-related articles you can share.
16. Keep It Relevant – You can always find something related to flowers to post.
17. Social Management Tools – Hootsuite, Buffer and many others can be used to manage all of your social networks in one place.
18. All About Them – Reply, Retweet and Repin, as well as post.
19. Go Pro – Know what you're good at and enjoy most, then do more of it.
20. Keep Learning – When something works, make a note; keep it up!
If you have any tips or favorite social management tools to add, leave us a message in the comments below!