Bid Day is that happy day when sororities welcome new sisters into their chapter. Bid Day begins a countdown to the most glorious week for all new members, Big and Little reveal! Big and Little reveal comes once a year, and with as many presents as these Littles receive – license plates, t-shirts, jewelry, pass-downs and many more – it's no wonder they call it Christmas!
It's easy to spoil your Little before you know her. But I am here to help you do it RIGHT!
One Classy Family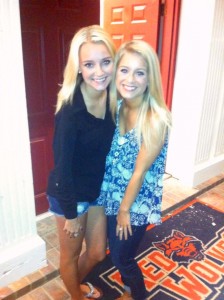 I don't know about all the different sororities' Little revelations, but during one of our celebrations we traditionally give some form of 'family plant.' This practice has translated into one big, funny joke among the Bigs. In past years, we have seen Christmas Trees, fake daisies and even potted plants. That's all well and good, but I'm here to tell you what your Little really wants, flowers!
How do you convey that your family is classy, fun and elegant? Send her lilies, and simply write "Welcome to the best family, love Big" in the card. No, these flowers won't last years but the memories will, and isn't that what we're here to make?
Congratulations to all future Bigs and Littles, and a future apology to all bank accounts! At least you love them, right?
Stuck on arrangement ideas? Take a look at our favorites!