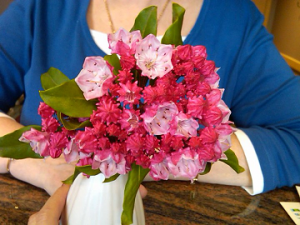 Ask the Expert: can you identify this plant please. As you can see by the photograph, before the flower opens it looks rather spikey like a pink pinecone but opens into a simple type of bell flower. Can it be grown in Zone 3? Kate
Flower Shop Network's Plant Expert Reply:
This flower identification was a hard one for me. So, I contacted Rick Pudwell at the Memphis Botanical Garden. Luckily for me, he was able to identify it. Here is his identification:
It appears to be Mountain Laurel, Kalmia latifolia. I t is a native shrub in the North Eastern U.S. through the Smoky Mountains. It is difficult to grow unless you live in an area with similar conditions.
Mountain Laurel's cupped-shaped flowers bloom from late spring to mid-summer. It has pink to white flowers with crimson to dark pink buds. This dense bushy shrub is sometimes called Calico bush. They like to grow in moist, humus-rich soil. in partial shade or moist sunny areas.