Halloween is the best time of year for scares, but trying to celebrate this annual homage to fright without mood-setting florals? That's downright spooky! Flowers should be an integral part of any Halloween celebration, and I'm going to give you three exciting reasons to head out to your local florist right now!
3 Reasons to Find a Florist for Halloween
The 'Mum'kin – That's right folks, a living pumpkin filled with mums. Or, for the slightly more daring florist, a living pumpkin covered with mums!
Once you've seen it, you'll realize that no Halloween party can be complete without one of these floral masterpieces. And if you're attending a Halloween party, the mumkin makes the perfect hostess gift!
Set the Dark and Scary Mood – Flowers are not only capable of providing that spooky visual decoration we all crave on Halloween, they can also provide a distinctive scent to titillate the nostrils!
Your local florist will know exactly what flowers to provide for the look and smell you're trying to achieve. Want flowers that look dark and brooding? Can do! Need some blossoms that smell musty or dry to set off your haunted house? With enough notice, even that is possible! There is no end to the exciting effects you can achieve with a little desire, creativity and a phone call to your local florist!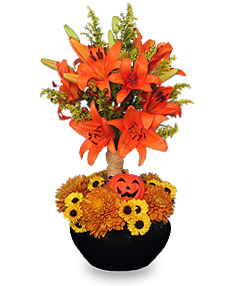 Halloween Themed Fairy Garden – For those of you who only use florists on Valentine's Day, Mother's Day and Easter, you may be unaware of your local florists ability to create artistic and amazing arrangements unconnected to those holidays. One of those creative arrangements is called a fairy garden.
This can be achieved in a variety of ways, but the most common is to use a potted plant and arrange small furniture and other items under the leaves so that it appears fairies use the plant for a garden. Think of it as a type of diorama. Now imagine using tiny tombstones, wispy, cotton ghosts and a miniature iron rail. Oh yeah, Halloween party gold!
Halloween is full of candy, laughs and all-around fun. And if there's one thing that florists know, it's how to help their clients have fun! So when going over your Halloween party list, don't forget to contact your local florist. They will have some spooktacular ideas to ensure you have the best decorations in town!
Not sure where to find your local florist? Click here and we'll help you find one!