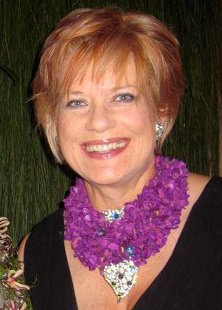 Flower Shop Network interviewed the wonderfully creative Rae Griffith, AIFD, ICPF of True Colors Floral Artistry in Springfield IL. She was chosen as our very first Illinois Florist Spotlight — congrats Rae!
Flower Shop Network: How long have you been a florist?
Florist: About 23 years, although it's been in my heart/mind since I was a small child. Flowers have always been a passion.
Flower Shop Network: When did open your flower shop in Springfield?
Florist: Dec 3, 1993
Flower Shop Network: What are your floral specialties?
Florist: Weddings, events, and everyday… in that order. Design wise, non-traditional vased work, tropicals (I have a tropical cooler). Bright and colorful.
Flower Shop Network: What is your favorite flower?
Florist: Gardenia, although in the spring, French tulips can give the gardenia a run for the money.
Flower Shop Network: What is your favorite wedding bouquet?
Florist: Lots of silver wire, bling and crazy! Very non-traditional.
Flower Shop Network: What would you say are the top flower trends in Springfield Illinois?
Florist: Fun, bright and lush. Gerbs are the hands-down favorite, still, but customers are looking for familiar flowers with an artistic twist.
Flower Shop Network: How have you used the Illinois state flower in your designs?
Florist: I have not. It's the wood violet. Although, I did make a large violet out of rice paper and cover it with cutup purple statice (ala rose parade float) for one of our state senator's inauguration parties.
Flower Shop Network: What has been the best part of being a florist in Illinois?
Florist: Hmm… probably my customers. I like being close to the St. Louis and Chicago area (all within a short drive), and our floral association. I think it is one of the best in the United States.
Flower Shop Network: Do you have a floral design philosophy?
Florist: Don't know if it so must a philosophy as a attitude. Never stop learning. I take classes, go to conventions and try to read all that I can about what is going on in the world, as far as floral design trends. To be a relevant and growing business, you must keep changing with the times, or you will be left behind. You cannot continue to do things the same way year after year and expect to grow your business.
Flower Shop Network: What style do you specialize in — modern, traditional, romantic, etc.?
Florist: Modern, trendy. We can do all the others, if needed, but our customers rarely ask for traditional.
Flower Shop Network: What makes your arrangements better or different than anybody else's?
Florist: They are distinctive because of the artistic design and unusual flowers.
Flower Shop Network: Do you remember the first time you received flowers? Tell us about it.
Florist: Of course I do! My Father bought a corsage for me to wear to my last piano recital when I was 11 years old. I wore a light blue dress so the flowers had a light blue satin ribbon, a small red rose bud and white mini carnations, with never wilt leaves, and white tulle puffs! How's that for a lasting impression?
Flower Shop Network: How did you get started in the floral business?
Florist: Mid-life crisis. I have always wanted to be a florist, but life leads you in many directions and it is not always a straight path to your destination. Got married, helped put my husband through grad school and finished my BA degree in art. Then I had a baby, and, at 38, I quit a well-paying job, and went to work for Jewel (grocery store) as the floral manager. Worked in two more flower shops before we opened this one.
Flower Shop Network: Favorite arrangements or other designs you've done?
Florist: Hmm… this is the hardest question to answer. Can't think of anything specific, but I would imagine it would be one that I have done for a competition at one time. It's a time when my brain is running full-tilt that I can be the most creative.
Rae is also the current president of the Illinois State Florists' Association!
This post is brought to you by FlowerShopNetwork.com and local Illinois florists.