Let's face it, St. Patrick's Day is no Valentines… Men everywhere aren't rushing out to buy St. Patrick's Day flowers for their ladies. However, as florists, lets make it our job to PAINT THE TOWN GREEN! We must become our town's first thought when it comes to holidays!

Paint The Town Green!
What are the key points of the St. Patrick's Day celebration we can use? Green, Gold, Pot of Gold, Rainbow, Luck, Lucky Symbols, Drinking, Guinness, Irish, Ireland.
Associate your business with the most 'fun' aspects of this holiday.
Decorate your store window with green, rainbows and pots of gold.
Create a few St. Patrick's day arrangements and advertise them on your Facebook page as special/limited editions.
Suggest to local businesses to buy your limited edition arrangements for easy decorations for their shops.
Contact local restaurants about using simple green flowers on their table centerpieces. Offer this for free if they will let you attach a small ribbon or card to the flowers with the name of your shop and your website URL.
Partner with local bars to sell or give away (with your ribbon) simple, green corsages for the night.
For pubs and bars, use shot glasses as vases for your small table centerpieces.
We've all seen the rivers and fountains dyed green, and some towns literally paint their city streets green with mops. If your city has a downtown Main Street or business district, paint it green — with flowers! Decorate city benches, arches, fountains, or statues with small bouquets of green carnations or other inexpensive flower or foliage. Be sure to get the appropriate permissions before hand, and clean up when you're done. This can be an easy way to really shine the spotlight on your shop! (Especially valuable if your shop is on the same street, or this street has a lot of pubs.) Be sure your shop's name and website URL are visible.
Start a contest for your shop! You can do St. Patrick's Day trivia or a fun scavenger hunt. Maybe hide 'lucky' ornaments around town to be redeemed for flowers? The possibilities are endless! Promote your contests on Facebook and other social media outlets. Be sure to include your website in all of your promotional materials.
Check the dollar stores or party stores for assorted inexpensive St. Patrick's Day party favors and accessories to include in your funnest arrangements.
Offer a discount for anyone who comes into your shop wearing green, OR a 1$ off for each green article of clothing they have on.. (Things might get a little crazy!)
Play on 'green' from a different angle. Create a big Go-Green For St. Paddy's campaign where customers receive discounts for bringing in something to be recycled. (Check out the last section of this article about starting a vase recycling program)
Ideas for St. Patrick's Day Limited Edition Flower Arrangements
Pot of Gold – Get a round container, black or painted black, to look like a pot for your pot of gold. Use vivid yellow flowers as the 'gold' in your pot of gold. You might also add a few chocolate gold coins or a rainbow coming out of the top!
Luck of the Irish – Use a basic terracotta gardening container painted black with a little buckle painted just under the lip. (To look like a leprechaun hat)
Irish Pub Special – Use a Guinness or other beer glass/mug as your vase. Paint or otherwise coat the inside a dark brown to imitate Guinness stout. Use cream colored flowers as the foam. Have taller flowers and foliage coming from the center of the glass to even out the height. Choose masculine colors to accent the creams, such as the pale green of seeded eucalyptus.
Bells of Ireland are also a great choice for this holiday!
"Avoid Getting In A Pinch This St. Patrick's Day, Send Flowers"
"You Don't Need The Luck Of The Irish To Catch These Limited Time Specials"
Here is my attempt at drawing them out for you: (enjoy!)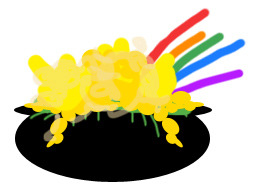 Have a St. Patrick's Day marketing idea or tip to add? Reply in the comments below!!
Related Articles:
Green With Envy: Inspirations for St. Paddy's Day
'Going Green' for St. Patty's Day Has Never Been Easier!
St. Paddy's Day Flowers Don't Have To Be Green
St. Patrick's Day Card Messages
This post is brought to you by local Chicago, IL florists.
No where near Illinois? No worries, use FlowerShopNetwork.com to find a local florist near you.