Some of our fondest memories of summer stem from our love of flowers. This month, we are taking a look at three summer flower favorites! Who can forget their childhood summers spent sipping tiny drops of nectar from honeysuckles? What about the colorful flowers that attracted the first hummingbird you saw? Or the moment your first real-flower lei was draped over your shoulders? Get into the spirit of summer early this year with this first look at sensational summer flowers.
It's Not Summer Without
Honey

suckle Flowers!
Who can forget the childhood wonder of their very first taste of honeysuckle nectar and the sensory abandonment that accompanied the moment when the sweet scent of this summer flower's blossoms wafted over you and the sugary taste of the syrup as the first drop hit your tongue? Many children have undoubtedly spent hours of their summer vacations laboriously collecting teeny droplets into mason jars, believing themselves to be business savvy entrepreneurs who could "get rich" selling the sweet ambrosia.
While those dreams never came to fruition for most of us, the honeysuckle remains a great source of nostalgia and continues to bring joy to those who find pleasure in its many uses. Many people unfairly deem honeysuckle an invasive pest with a penchant for overtaking everything in its path. Because of the resilience of the honeysuckle vine, it remains an ideal candidate for creating borders in the yard or around garden areas. The honeysuckle vine will climb a trellis or a fence and create a beautiful natural perimeter when well pruned.
Outdoor dinner parties on the patio hosted near its fragrant blooms create an aromatic ambiance that cannot be matched by a candle's scent. Eastern medicine heralds the therapeutic benefits of the plant, and a search on the internet will turn up many recipes for brewing your own honeysuckle tea. Relive your youth by teaching the children in your life how to sip its delectable nectar this summer. While they will surely find great happiness in this discovery, you might be surprised by how much pleasure you find in being "young at heart."
Flowers Humming

birds Love
One avian notorious for heralding in the summer months is the hummingbird. These jewel-colored buzzing birds bring much pleasure to amateur backyard bird watchers. While many believe that scent is the key to attracting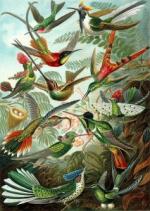 the little birds, they are, in fact, drawn to the brightly-colored, summer flowers in your flower bed.
The hummingbird uses exorbitant amounts of energy as its tiny body is in constant motion. Because of their mighty appetites, a garden stocked with flowers in shades of deep reds, oranges and purples is likely to attract them. They are naturally drawn to elongated blossoms which enable them to bury their long beaks inside to draw out nectar. Hummingbirds feed throughout the day, however, they are most prevalent during the early evening hours.
They are particularly fond of Bee Balm, Columbine, Trumpet Vine, Hibiscus, Clematis, and Red Salvia. If you aren't able to get away for a vacation this summer, set up a quiet, peaceful spot to observe the jewel-toned, feathered creatures in your neighborhood. Take the opportunity to reflect on life's simpler pleasures. With an iced tea in hand, listen for their incessant humming. Spend the time observing them and wondering at their momentum, vivacity and ostensible joie de vivre.
Hawaiian
L
e
i
— A Summer Vacation Tradition
With warmer days and summer's approach, many begin eagerly pulling sandals out of the back of closets and stockpiling citronella candles for backyard barbecues. Calendars bear witness to this enthusiasm as letters jotted across designated weeks loudly proclaim, "VACATION," and emphatic X's mark through the work days survived.
Many head to tropical locales during these balmy months, and the oft visited island of Hawaii is no stranger to spreading elation through flowers.
The characteristic greeting recognized throughout the world when arriving on the islands is the native salutation, "Aloha," a kiss on the guest's cheek, and a Hawaiian necklace made of summer flowers is placed around the visitor's neck. In modern Hawaiian culture, the lei symbolizes an ethos of friendliness and generosity. It can also convey great feelings of affection. But when and why did this tradition start? Like most folklore customs, some mystery and myth surrounds the lei's origin.
It is widely believed that when the Polynesians arrived on the islands around 400-500 A.D., they brought with them the practice of honoring their gods with the lei. Leis were also exchanged with fellow tribes as a representation of peace at the end of war. Materials used in the early lei varied and commonly included bones, feathers, seaweed, and locally-harvested nuts, in addition to flowers. At the end of time spent on the island, visitors cast their leis into the ocean. If the lei returned to the shore, lore held that the individual would return to the islands someday. The lei is commonly now strung only with flowers, however, its significance to Hawaiian culture remains relevant.
Today, the lei appears at momentous occasions, such as weddings, funerals and graduation ceremonies. Lei production is a lucrative component of the Hawaiian floral industry. The hospitality business relies heavily on them to introduce a celebratory atmosphere to tourists, and wedding planners are inundated with requests for leis by couples tying the knot on the islands.
While their popularity continues to increase, travelers can be assured that for the people of Hawaii this is not an empty gesture, and Hawaiians take great pride in the history and significance of the lei.
From our earliest childhood memories to our latest big Hawaiian vacation, flowers and summer have always gone hand-in-hand. So, no matter what your plans this summer, flowers will undoubtedly be a part of them. Before we get too busy with vacations, baseball games and cookouts, send summer flowers to someone you care about and get in the sunny mood of summer early!
Image credit: Hawaiian Lei | Luau Dog | Honeysuckles | Hummingbirds
Brought to you by Local Honolulu, HI Florists