The Amaryllis is quickly becoming a favorite, trendy houseplant for Christmas. Rivaling the larger, more traditional poinsettias. But there is far more to the Amaryllis than just being a Christmas decoration. Read all about this fascinating flower in this article!
AMARYLLIS/ HIPPEASTRUM

Use: Flower
Type: Bulbous Perennials
Height: 9-16″
Name Meaning: Pride, Radiant Beauty
GROWING
Requirements: moderately fertile, well-drained soil. Full sun to partial shade.
Makes a great houseplant.
DESIGNING
Blossom Size: 3-8″ tall
Texture: Waxy
Fragrance: Light, sweet scent

Silhouette: Trumpet
Vase Life: 7-10 Days
Colors: Solid and Bi colors. Mostly pinks, whites, or purples
Bloom Season: Fall
Flowers Available: Year Round, Peaks October through May
ABOUT AMARYLLIS/ HIPPEASTRUM



Mistaken Identity At one time, hundreds of plants were labeled Amaryllis from both the new and old world. After a closer look, it was understood that they actually are not from the same genus at all. The name Amaryllis now is used to describe plants from the old world, namely Africa. Plants from the new world are labeled Hippeastrum. Currently, there are only two species in the true, Amaryllis genus; the most famous of these is Amaryllis belladonna. The horticultural trade has made little efforts to correct the mislabeled Amaryllis to Hippeastrum, and even if they did, it probably would do very little good.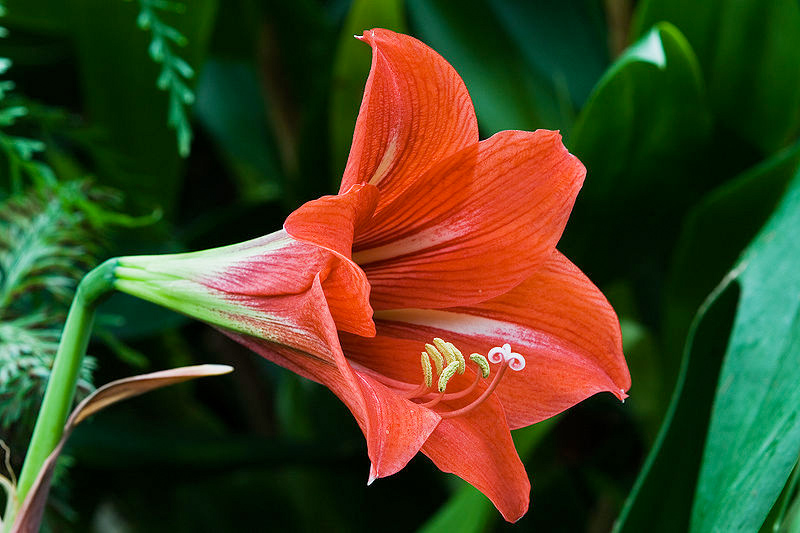 Hip To Be Hippeastrum. Most of the commercially available forms of Amaryllis are actually Hippeastrum. These plants are native to Central and South America. There are over 50 species and hundreds of different cultivars available. They are an increasingly popular bulb for indoor growing because of their sleek style and long bloom time.
Hippeastrum is Greek for horseman's star (knight's star), because of the resemblance to the morning star weapon. You know, the big, spiky ball on the end of a chain with a club. Who would have thought such a delicate beauty could be named after a medieval weapon?
The Dutch were the first to cultivate the Hippeastrum (from the Americas)  in Europe in the 18th Century. But it was the emergence of Hippeastrum papilio that caused these flowers to skyrocket in popularity. H. papilio is a unique beauty; it combines beautiful color with unique stripes. This allowed for tons of new varieties with striking color variations.
UP-AND-COMING CUT FLOWER FAVORITE
Florists everywhere are loving the Amaryllis right now. They have a fantastic vase life and an unrivaled silhouette. They look great in big bunches — fantastic for Christmas centerpieces.
Probably the favorite use for Amaryllis in floral design, is [Read more…]