The Arkansas Florist Association is throwing their 62nd annual convention "The Splendor of Christmas" this August 15-17 in Hot Springs, AR at the Hot Springs Convention Center!
The Classes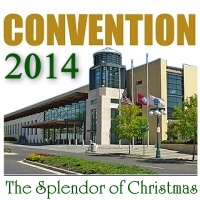 You will definitely want to attend this year's convention for the educational opportunities. There are some incredible designers on tap this year, including Marie Ackerman AIFD, PFCI; Tom Bowling AIFD, PFCI; Jackie Lacy AIFD; Ann Jordan AIFD, Mandy Majerik, AIFD, PFCI and the 2013 Arkansas Cup Winner, Kathy Rodocker. The shows will include hands-on prom designs, Christmas, sympathy, and many other topics.
There will be something for everyone!
The Company
Beyond the numerous opportunities to learn from some of the best in the industry, you'll also have the chance to meet other florists from around the state and surrounding areas. You can reunite with old friends as well as make some new ones.
And speaking of friends, don't forget to go by the FSN booth to chat with Shelley and Krystal. I'm sure they'll have some goodies for you as well as all the information you might need on Flower Shop Network.
The outside temperatures may be high, but the beauty of the Christmas season is sure to keep things cool. Come on out for a great time!