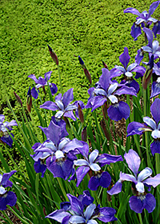 Every spring, I begin the process of taking stock in my garden. What survived the cold winter? What areas just need sprucing up or an extreme makeover? Then, I head to my favorite nursery and begin my annual indulgence—plant shopping! The color I gravitate to most is purple—from pale periwinkle to luscious lavender to deep, velvety jewel tones.
Purple adds drama and mystery to my garden. I add yellow, pink and white flowers to add contrast and lighten the palette. To create great focal points with intense color, I combine shades of orange or gold in front of a swath of purple blooms. My favorite color combination is combining a punch of chartreuse with deep purple—talk about eye candy!


Below are some of my favorite purple blooms:
Balloon Flower or Chinese Bellflower

(Platycodon) is a perennial plant known for its large, showy blossoms that resemble hot air balloons right before they open. The plant forms in clumps and each stem bears bell-shaped flowers in pink, purplish-blue and white. Grown in full sun or partial shade, they bloom throughout the summer.
Easy to grow, the striking

Bearded Iris

is a drought-tolerant plant with blooms in a rainbow of colors. Grown from rhizomes, these perennials blossom in spring, although there are summer-blooming irises. The blooms are large, showy and make a great backdrop in your garden.
Harbingers of spring,

Crocus

are one of the easiest bulbs to grow. Best planted en masse, these perennial flowers grow in full sun to partial shade and are ideal for naturalizing. With minimum growing conditions, they will reward you with a profusion of colorful blue, purple, yellow, white, orange, and even variegated flowers.
| | |
| --- | --- |
| Grown from bulbs, Gladiolus have multiple blooms on long, sturdy stems. These sun-loving plants come in a wide array of colors and make great cut flowers. I'm always amazed that Gladiolus bulbs are so inexpensive—I've purchased a bag of 100 bulbs for as little as $12! And yes, I managed to plant all of them! | |