Ask the Expert: Blue Orchid arrangements
My daughter is getting married May 7th, 2011. She wants to use Blue Orchids in her floral arrangements, her colors are Navy Blue, White and a touch of silver.(winter in May) What other flowers could you suggest for the bridal bouquet and brides maids bouquets? Thanks for your help! Shelly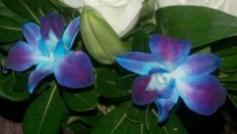 Flower Shop Network Flower Expert Reply:
I personally don't know of a naturally occurring blue orchid. The most commonly used 'blue orchid' is the blue Dendrobium, however it is actually a Purple Bombay Dendrobium dyed blue. This flower is more of a purplish-blue color rather than your desired navy. (See picture to the left.) I've also seen Misteen Dendrobium dyed blue. This flower is a white orchid with light-pink tipped petals; when dyed blue, it still has hints of purple.
Florists also have the option to use a special floral spray paint and can make your flowers the perfect color for you! This is definitely best left to the professionals as it is very hard to achieve a natural look.
Because blue orchids are dyed, achieving a navy blue orchid might be difficult. Another option would be to use white orchids and navy blue accent flowers.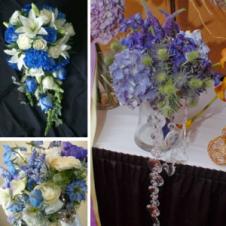 Some great blue flowers include:
Hydrangea
Agapanthus
Cornflowers or Bachelor Buttons
Phlox
Delphinium
Forget-Me-Nots
Love-in-a-Mist (Nigella damascena)
Dyed Daisies
Dyed Roses
Dyed Carnations
Dyed Mums
Blue Flag Iris
Scabiosas
Bluebell (Scilla)
Grape Hyacinths
If you still aren't able to find the navy you are looking for, you might consider using it in other ways, such as feathers, ribbon, wire or crystals. Get with your local florist about this and she will be able to design something fabulous!
For more great ideas, check out our sister site, Wedding And Party Network's bridal bouquet gallery.
This post is brought to you by local Springfield IL florists.
Not in Springfield? Don't worry, use Flower Shop Network's directory of real local florists to find a florist near you!