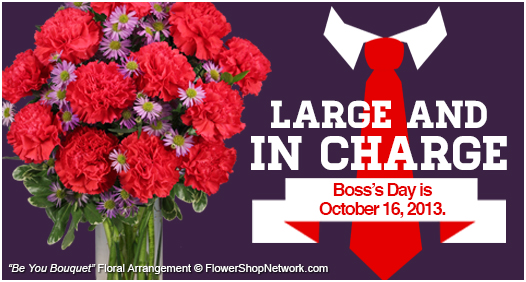 Boss's Day has really gained traction in recent years. If there was ever a time when this holiday could be ignored or set aside in favor of more important things, that time is long passed. So if you have a boss, and let's be honest most of us have a boss, here are a few floral gift ideas to make your boss's Boss's Day a roaring success!
The Sports Fan
If you've ever seen your boss sporting their favorite football team's mascot on his tie, he may be a sports fan. Your local florist is more than aware of any local or regional sports teams and probably carries a plethora of items they could use to put together a wonderful sports-themed arrangement. If nothing else, an arrangement using flowers in your boss's favorite team's colors can provide that "Wow" factor! If your boss loves golf, a sport where there are no teams, or is a fan of a team across the country, do not fret! Your local florist will have what they need to put together something impressive!
The Workaholic
Does your boss spend long hours at the office? Is she there when you arrive and there when you leave? Then she may be a workaholic. The best gift for these dedicated employers is a potted plant! The plant will inject some much-needed nature into their world while offering fresh oxygen that hasn't been run through the building's filters and HVAC unit. A plant is also very low maintenance. It will be a benefit without distracting this hard worker from her daily duties.