I have to admit, probably my favorite part of this job is looking at all of the beautiful pictures of flower arrangements posted on our Facebook wall every day. I am always astounded at the creative and out-of-the-box methods florists use to create incredibly unique holiday arrangements every year. No two are ever alike! The way florists keep it fresh every year stems from their creative abilities. I love these beautiful holiday flowers, and I know you will too…
The three pictures above are all from the talented Tom of Crossroads Florist in Mahwah, NJ. Tom decorates the lobby of the same hotel every week, and it always looks outstanding! These three are the holiday designs he's created this year, and we LOVE how creative and unique they are! Instead of going with the traditional red and green, Tom has chosen small details of the season to highlight. The white and silver for winter; the cranberry and popcorn as hints of Christmas tree garland traditions, and the green tree ornaments mixed with mesh and star-like orchids. Fabulous work, Crossroads!
We can't leave off this beautiful BLUE Christmas tree also shared with us by Tom at Crossroads Florist. Done for a large corporate lobby, this uniquely hued tree is sure to catch everyone's attention! The blue used is so vibrant and vivid; we love it!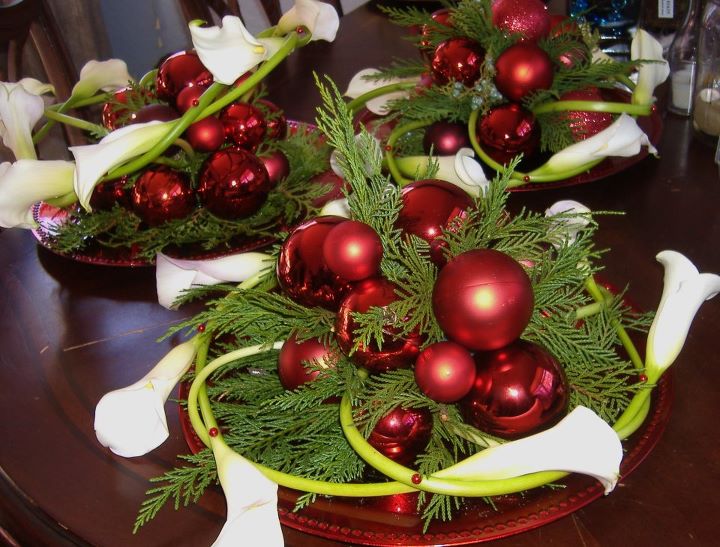 We love these festive, holiday centerpieces created by the talented designers at The Enchanted Florist in Asheville, NC. These designs feature the elegance of sleek, curved Calla lilies, mixed with the traditional Christmas cedar and a various of red ornaments. Janet, owner of The Enchanted Florist says, "Christmas Centerpiece doesn't always have to be the same ole thing." And she's definitely right! These were for a corporate Christmas party in her city.