Ask The Plant Expert:
I got a plant for Mother's Day. It's name is Croton, it's a black waxy leaf with red veins in it. I went online and on one web site it stated that it is highly poisonous to pets and people. I have it on my enclosed patio and my cats go out there all the time. So i was wondering if i should return it? If you could please email me back asap, cause I'd  like to keep the plant, but I love my cats and myself more. Thank you for any help, or if your not sure if you could maybe have any ideas on who i could contact. Thank-you, Anneke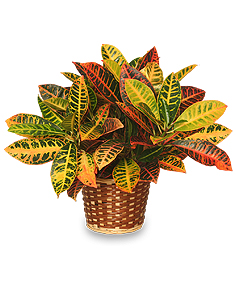 Flower Shop Network:
Yes, the croton house plant is toxic for plants and people, but only if it's digested. If you're cat has a habit of chewing on plants, you may want to try a different plant. However, the plant tastes terrible, and accidental poisonings are rare.
If any part of the croton is ingested, it would cause vomiting and/or diarrhea, and in large doses could be fatal. It is also a good idea to wear gloves when pruning, and wash your hands after touching the plant.
Although crotons are toxic, they are a beautifully colored house plant that requires little care to maintain. As long as you leave it alone and teach kitty to not crave croton salads, you can live happily with your new plant. However, if you think your cat is prone to chewing on leaves, you might consider a different plant. Be sure to check the FSN House Plant Toxicity List for help.