Did you forget an anniversary? Skip shopping for football? Talk bad about her *delicious* cooking? Well, shame on you… but there is hope…
How To Make Your Wife Happy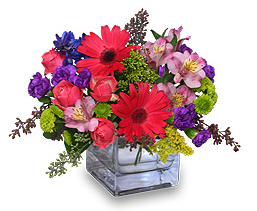 The best way to make your wife or girlfriend happy again, is by surprising her with something special — send flowers. Not just ANY flowers will do, send her a bouquet of her FAVORITES. If you don't know her favorite flowers, send her favor color. If you don't know you're wife's favorite color, you're going to be sending a lot more flowers in your future.
Talk to your florist about your wife, tell her what styles she's into: vintage, contemporary, glitzy, traditional, minimalistic, etc. Your florist will be able to create something wonderful based on just a few details you can tell her about your wife. Florist LOVE creating custom flower arrangements. In fact, if you are the type of guy to only shops online, most florists will have a Designer's Choice option on their websites. Choose this option when sending flowers online. You will be able type in a comment, and tell the florist all about your girlfriend or wife.

Keeping Your Wife Happy
Keep the fire alive with spontaneity! Send her flowers just because throughout the year. Here's a little, not-so-secret secret: women love attention. Receiving flowers at work for no reason will have your wife smiling from ear to ear, and boasting about her fabulous hubby. Every day she walks into her office and sees her desk full of meaningful blooms, she will be in an instant good mood.
Stop by your local florist after work occasionally and pick up a hand-tied bouquet of flowers to bring home to her. Hand delivered is the best flower delivery. This is a great habit to make — keep your wife happy and make her feel special, that is your job after all.
This post is brought to you by local Miami florists.
Not in Miami FL? No worries, use Flower Shop Network's handy directory of real local florists to find a florist near you!