Thanks to FSN member Tim, at Botaniq Floral Studio in Santa Rosa Beach, FL for giving us the tip about this new program!
The U.S. Post Office has come out with a brand new direct mail program that could be a huge benefit to local businesses. They call it Every Door Direct Mail.
What is Every Door Direct Mail

Every Door Direct Mail enables you to extend your customer reach without the need for mailing lists, permits, and the associated fees. With Every Door Direct Mail, you create a direct mail without applying individual names and addresses to each mail-piece.
You pay 14.2¢ (cents) for each mail piece you send out.
Your target area can be a city, neighborhood or specified distance from your business.
Every Door Direct Mail is available only for Regular Standard Mail Flat size pieces.
The minimum number of pieces required is the number of active deliveries on a carrier route (not less than 200 pieces per mailing).

How Every Door Direct Mail Benefits you
Target a location without an address list
Easily send out local mailings
Build more traffic
Find new customers
FSN Makes It Even Easier With Direct Mail Templates
If you're one of our fantastic(!) FSN members, we offer a Direct Mail Template Generator for you in your FSNf2f dashboard. Simply log in to FSNf2f.com and scroll down to the Marketing section in the orange right menu. Click on Direct Marketing Templates and you will see the 3 template options available to you: Build A Marketing Piece, Build A Brochure, and Build A Statement Stuffer.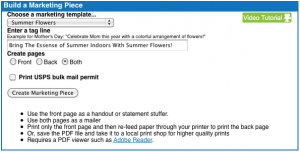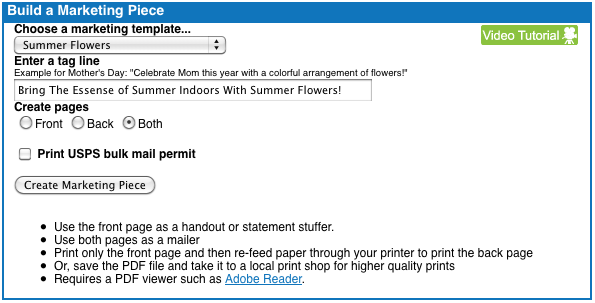 All of these are easy to use and will feature your shop's information! The Build A Marketing Piece is the one you want to use to create your direct mailer. If you are using Every Door Direct Mail from the post office, you will not need to select bulk mail permit. If you need help creating your template, watch the Video Tutorial by clicking the green button. More on the USPS site on Every Door Direct Mail Requirements.
Be sure to contact YOUR local post office before hand to make sure the size and weight of your direct mailer is correct BEFORE mass printing them. You will also need to know how many addresses are on a specific route.
[Update] After talking to several post offices about this, we have found out that pages need to be legal size, which is 8½" × 14″. One post office said a standard paper size (8½" × 11″) would work, while another said no. So.. again CHECK WITH YOUR POST OFFICE!
For much more information about Every Door Direct Mail, visit the USPS Website.