You can never go wrong sending flowers to someone on their birthday. Gazing at beautiful flowers will create sweet birthday memories to hold close to heart. Especially if your recipient works at a desk job. There's nothing better than having your beautiful birthday gift greet you with it's vibrant colors every morning when you walk into your office. It's like celebrating a birthday week instead of just a birthday~!
For a February birthday, flowers are especially sweet. If they didn't receive any on Valentine's (*sadface*) or even if they did, it will remind them spring is right around the corner! With all of the cold weather we've had this winter, this is a much-needed reminder.
So how do you send flowers for a February birthday? Purple Purple Purple!

Well, normally you can choose the monthly flower, but February's official flower is the violet, which is more of a garden flower than a cut flower used by florists. Violets are still beautiful and make a great gift that lasts. Call your local florist and see if they have these available.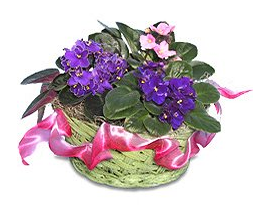 If not, choose flowers in violet colors. The birthstone for February is also purple, the amethyst. Flowers in these color schemes include: roses, tulips, statice, stock, carnations, and many more.
There are also specific colors depending on the birthday week your friend was born.
January 25st – February 3rd – Pink
February 4th – February 8th – Blue
February 9th – February 18th – Green
February 19th – February 28th – Brown
You can use any one of these, together with purple, to create a personalized February birthday flower arrangement that is sure to please any February baby.
Another great choice for February is our FSN favorite flower for February, the Anthurium. It's heart-shaped blooms will remind your birthday friend they are loved. Don't forget a great birthday card message!
Related Articles:
A Taste of Love, A Piece of Pisces
The Age of Aquarius Inspired Flower Arrangements
FSN's Favorite Flower For February: Anthurium
FSN's Favorite Flower Arrangement For February
Need Another Gift Idea For February? Send A Plant!
Violet Delight: The February Birth Month Flower
This post is brought to you by local Buffalo NY florists.
Not in New York? No worries, use FlowerShopNetwork.com to find your real local florist!