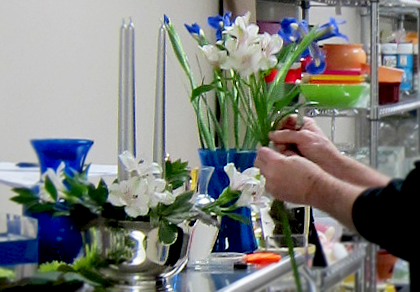 How involved is your flower shop in the local community? (No blank stares, please.) The more you put yourself out there, the more you will get back!
Do more for your public image by offering workshops to your community. This engaging approach cements your business in the minds of customers, and can be highly rewarding.
By developing simple, one-day sessions, you can reach out to your neighborhood to offer an event that is completely original.
Your customer base will increase, not just from workshop participants, but word of mouth as well. Think of it as summer camp for flower enthusiasts!
Host Workshops in Your Area
Flower Arranging 101 – Teach the basics of flower arranging to the DIY crowd, and make sure they know they can get the best loose stems and flower accessories from you to build their own custom creations.
Grow Green Thumbs  – Show how to care for all the houseplants you offer in your shop by demonstrating various pruning, re-potting and watering tips.
Cocktail Flower Hour – Offer a wine tasting paired with a floral design lesson for a relaxed and sophisticated evening mingle.
Posy Pals  – Make use of bright, summer blooms and appeal to all ages by teaching young flower lovers how put together a beautiful flower arrangement. (Great just before family-oriented holidays, such as Grandparent's Day.)