I know around here we are always repeating "local local local!" but just what is the importance of using a local florist when ordering flowers?
Best Deal In Flowers is Local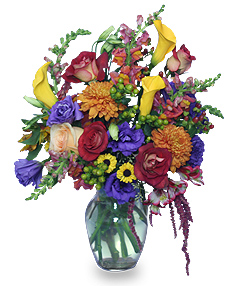 Did you know by finding and using a real local florist you could ADD as much as 30% MORE to your flower order? Many websites online promise flowers, but take a large percentage of your order for their own pockets before they send it to a florist to be created. (Not FSN of course!)  This is not a good deal for you OR your florist.
How to tell if a florist is local:
Local Physical Address
Phone Number To The Shop Directly
Flower Shop Network makes it easy for you to buy online from a real local florist. When you select a flower arrangement from our Flower Gallery, you will be instantly connected to a REAL local florist in your community. You can also visit our directory and choose your own florist anywhere in the US & Canada!
Best Quality Flowers & Flower Delivery
Your local florist will have the freshest and best selection of flowers, hands-down. When you send a friend flowers from a local florist, you know they will be fresh and beautiful. A local florist would never dream of delivering your flowers in a box for your friend to put together themselves. (Yes, it happens!) Also, a local flower shop in your city will know the area and won't get lost when delivering your important order.
Local Quality
Florists in your area will have expert knowledge of what flowers work best and last the longest in your area. Some florists even use locally grown flowers when available. If you host a lot of outdoor events, a florist local to the area is going to know the ins and outs of keeping your flowers looking their best throughout the entire occasion. You just can't go wrong with a good local florist.
What if I want to send flowers to a friend who is not in my city? How do I find a local florist?
This is exactly where FSN's local florist directory comes in handy! Here you can find real florists, as well as reviews, maps, and more!
So remember, for the best quality, service and freshest flowers — when you think flowers, think local!