Welcome to October's Blog Spotlight!
This month we have a small blog from Concord, MA: The Concord Flower Shop Blog. This flower shop has been in business since 1898 and is in its 25th year under current owner, Helen Dearborn Halloran. They are a local, independent and green florist that carries a large selection of cut flowers from local sources and around the world. They offer both monthly specials and web specials, so if you're in the Concord area, it's a good idea to keep an eye on their page. But what about the blog?
Concord Flower Shop Blog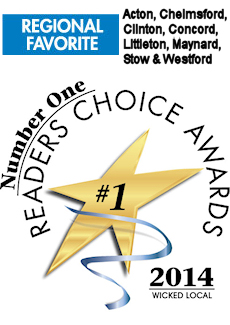 It's always exciting to win and we couldn't be happier to have been voted Favorite Florist in both Concord and the wider Region (Acton, Chelmsford, Clinton, Concord, Littleton, Maynard, Stow & Westford) by Wicked Local!
Each year the local Beacon Communications News runs this contest for their readers. We've won in each category before but not both at the same time. It's great to know that our hard work and customer service doesn't go un-noticed and we will continue to work hard to keep your business.
Right now we are offering local summer flowers from area farms. This means the flowers are picked daily and when you bring them home or send them to a friend, you can be certain they will be fresh and long lasting. Our summer specials are posted on the sandwich sign outside our shop in West Concord, on our Facebook page and the special's page on our web site.  We hope you'll visit  soon and see for yourself why we are the areas favorite florist!
Why It Works
The post is short and to the point, but that's not a bad thing! It's a public thank you to their customers, and they are using the blog as a way to communicate store news to their audience. Both excellent uses of the blog space!
Are you interested in having your blog featured in our next blog spotlight? Leave your shop name and blog link in the comments below. Thanks for reading and join us next month for another edition of the monthly Blog Spotlight!