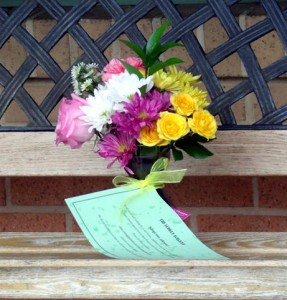 All florists face the challenge of getting people to visit their shop outside of traditional flower-giving holidays. It's standing room only on Valentine's and Mother's Day, but at other times of the year, manning the counter is akin to running the second most popular hotel in a ghost town. It's not that flowers become any less beautiful, delicate and amazing, it's just that, without the commercialized holidays or traditional events to remind them, people tend to forget.
It's not hard to see why. In this world of hurly-burly hustle and bustle, it takes a rare person to stop what they're doing and smell the roses. And yet, that's what is being promoted in a new movement. People are being asked to not only smell the roses, but pass them on to others!
The Lonely Bouquet – Spreading The Love of Flowers
This movement, with roots sunk deep in the soil of the Netherlands, is called the Lonely Bouquet. The original idea was to leave a bouquet of flowers on a park bench, or any other public area, with a visible note attached saying, "Take me." The point is to spread joy and happiness to some unknown stranger through the anonymous gift of flowers. This idea has gained traction quickly and is now grown into an international event! If you want to leave a lonely bouquet of your own, any day is good, but June 30th is the official day all across the globe!
Although not intended as marketing for florists, the awareness raised by anonymous bouquets found around town has proven very beneficial. In fact, many newspapers, blogs and television stations covered the event this past year, spotlighting individuals who organized groups to place bouquets in public. As you know, anything that puts flowers in the spotlight is valuable to everyone. Florists get much needed business, and more people get to open their doors to a vase full of fresh and beautiful blooms.
Even so, this event only happens once a year, and though annual events are nice, they are limiting. So what can florists do to make an idea like this work for them?
Spreading Joy
Leaves Floral Design and Gift Boutique in Greendale, WI chose to place multiple gorgeous and well-arranged bouquets around the city, but instead of the single note that says, "Take Me," she added a second note encouraging the finder to take a photo and share his experience of finding the bouquet on the florist's Facebook page. Excellent idea!
For each person who posts on her page, she gets a photo of her arrangement and a touching story of how the finding of it improved the recipient's day in some fun way. She knew that whoever found the bouquet would be thrilled because flowers are alluring, peaceful and offer she who holds them a chance to reconnect with the natural world. Something that is increasingly more difficult to do every day. Those testimonials are guaranteed to be interesting and touching to both the florist and her readers.
On the business side, quality content on her site will ensure more and frequent traffic. Also, each of the poster's friends see the post and have the opportunity to like and/or share it. Not all will of course, but of those that do, all of THEIR friends now have the same access. This florist was lucky enough to have a newspaper article published about her campaign. Because it was original, the local paper was interested in the concept. For the cost of a handful of bouquets, she has brightened the day of the few people who found her flowers and the multitudes who read about them after the fact. Her business has been advertised far and wide, and the potential results can be significant.
This same idea is already being implemented by multiple florists across the country, including MaryJane's Flowers & Gifts in Berlin, NJ who was kind enough to submit all the photos you see in this post. Thanks MaryJane's!
Letting Joy Spread Itself
Another florist chose to use Twitter for his marketing campaign. His idea was to give away a bouquet with the stipulation that the person he gave it to could only keep it for one hour. Once the time had passed, and that person had now had time to be seduced by the intoxicating aroma of flowers in her work space, she had to then pass the flowers on to another person with the same stipulation. She would then post about the experience on Twitter using the hashtag #passthepetals.
Again, this florist chose to use the awesome power of flowers to do his marketing for him. He didn't have to mount a large campaign, he just had to give someone a bouquet of flowers. Everyone who received the bouquet was overjoyed, took pictures of the flowers and had a wonderful time doing so. Receiving flowers is special; it shows that someone cares about you and wants to bring you joy. If you're curious what kind of response this florist received, go to twitter and type #passthepetals in the search box to see the results!
Ideas of this nature are excellent grass roots marketing campaigns, and the incorporation of social media offers even more potential exposure. Don't forget, Instagram also uses hashtags and Pinterest is a visual format as well, giving you the opportunity to share photos of your creations.
It's not necessary to duplicate what the people above have done, feel free to explore your own ideas and use all that social media has to offer. And there's no need to limit this kind of outside-the-box thinking to one day a year. If you've been in business for long at all, you know when your downtimes are. Don't be afraid to generate some buzz with a well thought-out and fun event when things are moving slow.
But it's not all about business. We know that though florists deal with flowers, they're real business is that of making people happy. Flowers are as much a tool to accomplish that end as they are a source of revenue for the men and women who choose to operate in this industry. The giving and receiving of flowers is a long-held tradition for a reason, it never gets old. If you're not a florist, but want to spread the joy of flowers to those you love or maybe as a random act of kindness, partner with your local florist to see what's available.
It's a concrete jungle out there. So much of life is lived away from nature and its wondrous bounty. Sometimes people need to be reminded that flowers are available and that the local florist is still there, offering fragile beauty and contagious smiles with each purchase.