I don't know about you, but my guy's big into football. NFL, College… even the world of fantasy football has taken him over.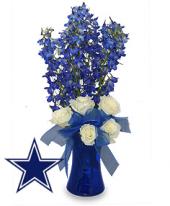 Sending a man flowers is almost taboo for some guys, but sending a man football themed flowers… suddenly he's the hit of the office! Don't ask me why, but there is a certain passion a man reserves for his team. You could buy him a dress in his favorite team's colors and he'd probably wear it to the next big game, haha.
So for wives looking to send a little something special to their hubby's office, football themed flowers are an obvious choice! Not only will they loveee the idea, but will show it off to all of their friends and co-workers.
If your hubby is in a fantasy league, send him flowers when he wins a big game, like the playoffs or the league championship Superbowl.  He will be thrilled you are taking an interest in his favorite hobby.
To send sports-themed flowers, contact your local florist and give them the team colors and mascot information. Although your florist may not have specific team items to use in the arrangement, they will have your colors in fresh flowers. For instance, the Cowboys themed flower arrangement (right) uses the colors blue and white and has a blue ribbon to set it off. (Silver ribbon would've been great on this one too!)
If you really want to surprise him, find out about his fantasy team. He would've picked a team name, colors and even a mascot — send him flowers based on that and maybe you'll get some attention tonight instead of his roster!
Related Articles You Might Enjoy:
Add Flower Power To Your Tailgate Party
What Hostess Gift Should I Bring To A Super Bowl Party?
Kick Off The Party With Game-Day Football Flowers
This post is brought to you by local Dallas TX florists.
Not in Dallas? Use Flower Shop Network to find a real local florist in your city today!