Summer is finally here! Time for block parties, grilling, BBQs, pool parties and summer luaus. Who doesn't love to get together with friends and eat food?! Summer luaus are always a huge hit! Don your grass skirt, break out those coconuts, crank up the Hawaiian music and you've got yourself a good time!
If you want your summer luau to be talked about for years to come, step up the decor and add some fresh tropical flowers!
Tropical flowers are always so unique compared to the flowers we are used to from our gardens.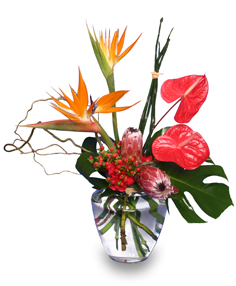 Their intensely-colored blooms are sure to set off any summer luau centerpiece. Plus, cut tropical flowers generally last much longer than traditional flower arrangements.
Keep in mind, not all florists carry tropical flowers in their every day supplies (although a lot do!). Don't fret, they can special order them just for your luau. Contact your florist at least 2 weeks ahead of your party, and they will be able to help you pick out the best tropicals to make your party a huge success.
Go beyond centerpieces and order fresh-flower leis. If you've never worn a fresh-flower lei, you don't know what you're missing! The heavenly smell of flowers never leaves your nose, and the colors rival anything plastic you can buy. You may think leis are only made in Hawaii, but your local florist might just surprise you with incredible lei-making skills of their own — just ask!